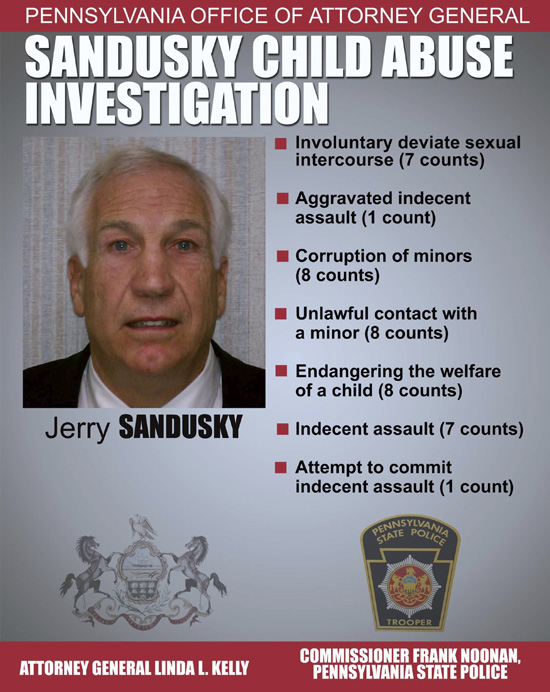 By now we're almost sure you've heard that former coach Penn State football coach Jerry Sandusky was recently arrested and charged with sexually abusing 8 young boys over a period of 15 years.
But what you probably didn't know, is that thanks to Jerry's "Second Mile" charity for troubled young men, he had access to hundreds of boys, many of whom were vulnerable due to their "social situations," prosectors say.
And it was that "access" that gave Sandusky the opportunity to cover up the fact that he was raping young boys for more than a decade.
Jerry Sandusky founded the Second Mile Foundation, a group home for troubled boys from broken homes, in 1977, and built it into an organization that helped as many as 100,000 children a year through camps and fundraisers.
But after it was discovered that Sandusky had molested some of the young boys in the program, he was arrested and led away in handcuffs in a child sex-abuse scandal that has sparked a grand jury indictment over an alleged cover up, and the firing of head coach Joe Paterno, as well as the university's president and two top administrators.
A Special Pennsylvania grand jury painted a picture of Sandusky as a relentless sexual predator who took advantage of at-risk youth and their disadvantaged single parents.
New reports also revealed that most, if not all, of the 8 victims were poor inner city black boys.
According to the Associated Press (via The Huffington Post):
He invited youngsters for overnight sleepovers at his home and took them to restaurants and bowl games. He wrestled in the swimming pool with kids who craved the attention. And he gave them gifts: golf clubs, sneakers, dress clothes, a computer and money, according to the indictment from the Pennsylvania attorney general.

The good-guy aura around Sandusky was so great that when some children questioned behavior that didn't seem right, no one took the complaints seriously.

Troy Craig recalled attending a weeklong sleep-away camp run by The Second Mile on the Penn State campus in the early 1990s. He was never sexually abused, but in other ways the coach's behavior seemed inappropriate at the time, said Craig, 33, who is now a disc jockey in State College.

Sandusky "had a way of, whether it was a hug or a hand on the leg in the car as we were driving, or just a way of putting his arm around you," Craig said. "I said this back then to people I knew. Everybody found it hard to believe, or that I was overreacting. I remember feeling as if I was the only one that thought anything was amiss."

[…]

The grand jury said that Penn State officials in 2002 told Jack Raykovitz, executive director of The Second Mile, that there had been an issue with Sandusky and a minor. But the charity took no action against Sandusky because, it said this week, Penn State did not find any wrongdoing.

And in 1998, Sandusky was investigated after he was accused of "behaving in a sexually inappropriate manner" with a boy in a shower at the football team's facilities, the grand jury said. The report said an attorney for Second Mile who was also university counsel, Wendell Courtney, was aware of the allegations.

Phone calls seeking comment from Courtney on Saturday rang unanswered, and emails sent to him were returned as undeliverable.

The Second Mile said that Sandusky told the organization in 2008 he was being investigated, and that from then on the charity separated him from programs involving youths. But the word about Sandusky may not have reached other youth programs he was involved with.

Sandusky held summer football camps – both at Penn State satellite campuses and at other Pennsylvania schools – for years after he was banned from taking youths onto the main campus by the school's athletics director and senior vice president. Both officials have now been charged with failing to tell police about a 2002 allegation that Sandusky had sexually assaulted a boy in the showers of the football building.

Sandusky held the football camps through his Sandusky Associates company from 2000 to 2008 at Penn State's Behrend satellite campus near Erie. There were never any complaints, according to a spokesman. Still, Behrend's athletics director said he wishes someone had told him about the 2002 allegation.

[…]

The very success of The Second Mile meant there was plenty of money for Sandusky to lavish on boys. A review of tax forms filed by The Second Mile shows that out of almost $3.3 million in revenue during the 2008-09 year, salaries, wages, and payments to directors totaled almost $1.4 million, along with $190,000 for "camp food" and $288,000 for "other expenses."

Sandusky is no longer on the payroll; his last payment was $57,000 in 2007-08, according to tax records. Over the years the payments to Sandusky totaled hundreds of thousands of dollars.

Records from The Second Mile show that the organization asks staff members and volunteers to sign a statement affirming they have never been suspected of child abuse. They must also submit a criminal background check. Officials from the Second Mile didn't respond to a question about whether any such checks were ever done on Sandusky.
Pennsylvania Governor Tom Corbett said that he believes there will be an investigation into what Second Mile officials knew, and if they were a part of the "cover-up."
The Second Mile said in a statement that it has done "everything in our power to cooperate with law-enforcement officials," but Pennsylvania Attorney General Linda Kelly has a different story. She claims that officials at both Penn State and The Second Mile were being uncooperative during the grand jury investigation.
Deborah Small, an associate professor of marketing and psychology at the Wharton School of the University of Pennsylvania, doesn't believe The Second Mile will survive the scandal. "There's too much moral hypocrisy going on," she said. "No one's going to want to be associated with them."
Based on all of these findings and the details of the scandal, we think it's safe to call this Jerry Sandusky guy "The White Eddie Long."
Be the first to receive breaking news alerts and more stories like this by subscribing to our mailing list.