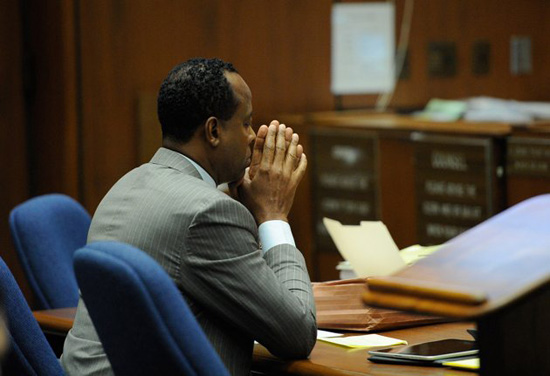 The fate of Dr. Conrad Murray is in the hands of the jury after deliberations began Friday (Nov 4).
After six weeks of listening to testimony from both sides, the jury went behind closed doors in a downtown Los Angeles courthouse to try and figure out whether they will convict or acquit Dr. Murray of involuntary manslaughter for the death of Michael Jackson in June 2009.
The Associated Press reported:
The physician's attorneys attacked prosecutors and their witnesses, saying they had over time developed stories and theories that placed the blame for Jackson's death squarely on Murray.

On Friday, media were camped outside the courthouse and in the courtroom where the jury's decision will eventually be read. There was no sign of Murray or attorneys handling the case, but they will receive a two-hour notice when a verdict is reached. Murray waived the need for his presence if the panel asks any questions, but must be present when a verdict is reached.
After nearly 6 hours of deliberation Firday, the jury wasn't able to deliver a verdict, and the judge presiding over the case dismissed them in the late afternoon.
Deliberations will continue Monday morning at 11:30 am sharp.
Be the first to receive breaking news alerts and more stories like this by subscribing to our mailing list.