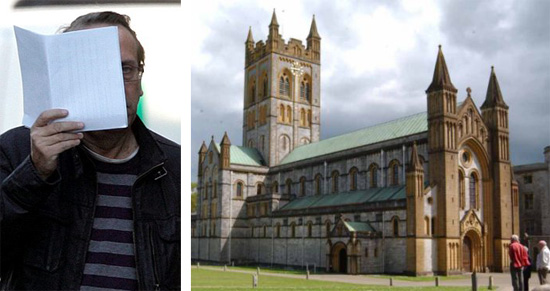 Talk about leading by example. Or not.
A 49-year-old married father of four, who was in charge of investigating the infamous sexual abuse allegations in the Roman Catholic church, was recently jailed for 12 months after he was convicted for internet pedophile offenses.
Christopher Jarvis was responsible for child protection at over 100 Catholic church and parish community groups for 9 years. He investigated historic claims of child abuse and even interviewed the victims when they were adults.
In March 2011, Jarvis was arrested after he was found on social networking website Ning uploading images of young boys.
At the time of his arrest, the Catholic Church child safety coordinator was leading an investigation into an historic sex abuse allegation at a local church in England.
When police raided his home, they found over 4,000 child porn images, mainly of boys aged 10 to 12, on a church-supplied laptop computer. Cops say they also discovered a memory stick also loaded with child porn.
The Daily Mail reported:
The court heard that 4,389 images were found on the laptop and memory stick. The majority, 3,721, were at Level One, the lowest level for abusive images.

But there were 120 at Level Four, which includes scenes of child rape, and 12 at Level Five, which can include scenes of torture and sadism.

Jarvis, who the court heard claimed he was abused as a child, was sentenced at the city's crown court after admitted 12 counts of making, possessing and distributing indecent images at a previous magistrates' court hearing.

The court was told that Jarvis, who was fired as soon as he admitted his crimes to the police, has been barred from attending any Catholic services in Plymouth.

He felt 'ostracised' by the church since his arrest, the court was told, and had attempted to commit suicide.

Police who examined the computer after Jarvis's arrest found that, as well as the images, he had viewed erotic content about a relationship between a nine-year-old boy and an adult man.

Diminutive and bespectacled, Jarvis hid his face with his hand from the people in the public gallery for the majority of the hearing.
As a member of the Devon and Cornwall Multi-Agency Safeguarding Team, Christopher Jarvis had easy access to police and social services information about victims of child abuse.
As a result of Jarvis' conviction and sentencing, the Roman Catholic Church is now reviewing child protection across Southwest England.
The new revelations that the church hired a pedophile to hold a key child protection role will add to the already mounting controversy already surrounding Roman Catholic Churches over its handling of sexual abuse.
Be the first to receive breaking news alerts and more stories like this by subscribing to our mailing list.