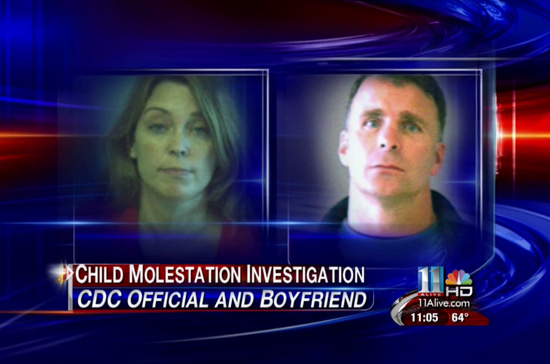 SMH … Just when you thought the world couldn't get any sicker, something like THIS happens:
A top level administrator at the Centers for Disease Control and Prevention and her boyfriend are behind bars on child molestation charges.

Police said it all stems from what they did with with a 6-year-old child.

DeKalb County police said Dr. Kimberly Lindsey, 44, and Thomas Westerman, 42, turned themselves in on Sunday after they learned warrants for their arrests had been issued.

Lindsey is a deputy director for the Laboratory Science Policy and Practice Program Office at the CDC.

Police said the couple molested a 6-year-old boy in January of last year and then again in August inside the couple's home on Springbrook Drive near Decatur.

No one answered when Channel 2's Tom Jones went to the home and knocked on the door.

A worker removing a storage unit from the couple's yard said he couldn't reach them either. The worker was stunned when he learned the charges the couple faced.

"I find it real shocking, 'cause, yeah, you never know who you're dealing with or where they're moving. That's a good thing to know right there," Ralph MacArthur said.

Police said the couple would include the child in their sex acts.

Investigators said Westerman allowed the boy to spank Lindsey's nude buttocks and let him use an electric sex toy on her.

Detectives said Lindsey also performed lewd acts on two pets.

Officers said a medical professional treating the victim alerted police.

"These cases are reported to us on a daily basis," DeKalb County District Attorney Robert James said.

James couldn't talk about the case because it may come before his office. But he did say he has prosecuted many cases where parents abuse children.

"Oftentimes when a child is abused I can tell you that it's typically someone that the child knows," James said.

At last check, Lindsey was being held at the DeKalb County Jail on a $20,000 bond. She also faces a felony bestiality charge.

The CDC had no comment other than to say its policy is to let situations like this play out in the criminal justice system.

Westerman was released on a $15,000 bond.
So these sickos molested a 6-year-old boy AND cops found evidence of bestiality in the home? And not only that, but the woman is a top level official for the Centers for Disease Control and Prevention????
JUST … PLAIN … SICK!!!!
Be the first to receive breaking news alerts and more stories like this by subscribing to our mailing list.