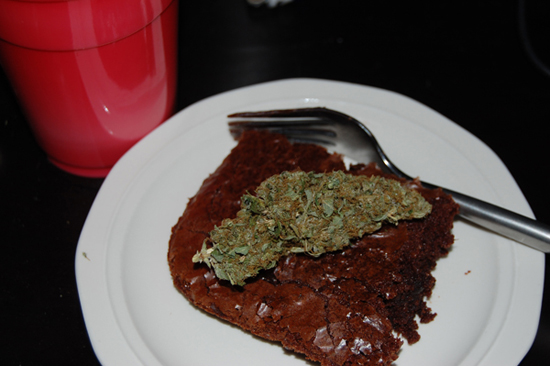 A Canadian woman brought in a little more than a plate of dessert treats when she accidentally fed her office co-workers a batch of year-old brownies laced with marijuana.
The woman says she found some brownies in her freezer one day, and decided to bring them to work to share with her colleagues.
Without tasting them first herself, she placed the brownies in the office fridge where her co-workers discovered them and ate some. A few hours later, three people were rushed to the hospital, with "light-headedness, numbness in the limbs and disorientation," and suspected that they were suffering from food poisoning.
Turns out they were just high. Really high. Really really high. Really really really, REALLY high.
Apparently, the pot-laced brownies that the woman gave her co-workers were actually made by her son about a year ago, and had freezer burn. (How on earth did she not notice a batch of brownies sitting in her freezer for a year?)
The son admitted to baking the brownies, and no criminal charges were filed against him or his clearly oblivious mother, though the son was sentenced to a few hours of community service.
That woman should come work in our office, and we'll put her in charge of snacks and desserts!
[KTLA]
Be the first to receive breaking news alerts and more stories like this by subscribing to our mailing list.