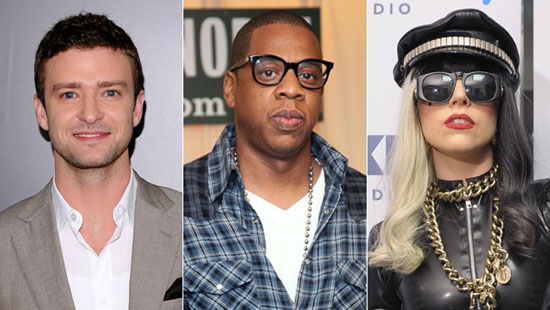 Vanity Fair has just released its annual "Influential Business People" list and we have the scoop on who made the top spot.
Facebook founder Mark Zuckerberg took the #1 spot (for the second year in the row), while influential Pop diva Lady Gaga came in at #9. At age 27 and 25 respectively, both are two of the youngest entrepreneurs to make the list.
What some would say are Zuckerberg's cyber nemeses, co-founders of Google Sergey Brin and Larry Page came in at the #2 spot and Amazon head-honcho Jeff Bezos grabbed the #3 spot, which was occupied by the aforementioned Google CEOs last year.
According to VanityFair.com, there are 14 billionaires on the list, including Zuckerberg, Brin, Page and Bezos, as well as Mark Pincus (Zynga), J.K. Rowling (Harry Potter), Reid Hoffman (LinkedIn), Peter Thiel (Paypal) and more.
Also making the list was filmmaker Tyler Perry who came in at #44, music mogul Jay Z who came in at #21 and new "Two and a Half Men" front-man Ashton Kutcher who came in at #43. Justin Timberlake ended the list of 50 influential business people in the last spot.
Take a look at the list in full below:
1. Mark Zuckerberg, Facebook
2. Sergey Brin and Larry Page, Google
3. Jeff Bezos, Amazon
4. Tim Cook and Jonathan Ive, Apple
5. Jack Dorsey, Square, Twitter
6. Marc Andreessen and Ben Horowitz, Andreessen Horowitz
7. Reed Hastings, Netflix
8. John Lasseter, Pixar, Walt Disney Animation Studios
9. Lady Gaga, singer
10. Dan Doctoroff, Bloomberg L.P.
11. Dick Costolo, Twitter
12. Mark Pincus, Zynga
13. Jim Breyer, Accel Partners
14. Tim Burton, Johnny Depp, and Graham King, Movies
15. Michael Moritz, Sequoia Capital
16. J. K. Rowling, Harry Potter
17. Trey Parker and Matt Stone, South Park
18. Reid Hoffman, Greylock Partners, LinkedIn
19. Herb Allen III, Allen & Co.
20. Judd Apatow, Apatow Productions
21. Jay-Z, Roc Nation
22. Todd Phillips, Green Hat Films
23. Yuri Milner, DST Global
24. J. J. Abrams, writer, director, producer
25. Robin Li, Baidu
26. Sheryl Sandberg, Facebook
27. Andrew Mason, Groupon
28. Jon Stewart and Stephen Colbert, television
29. Mark Wahlberg and Stephen Levinson, Leverage
30. Angela Ahrendts and Christopher Bailey, Burberry
31. Elon Musk, Tesla Motors, Space X
32. Natalie Massenet, Net-a-Porter Group
33. Paul Graham, Y Combinator
34. Sean Parker, entrepreneur
35. Fred Wilson, Union Square Ventures, Flatiron Partners
36. Peter Thiel, Founders Fund, Clarium Capital Management
37. Peter Jackson, Wingnut Films
38. Ryan Kavanaugh, Relativity Media
39. Mike Allen, Politico
40. Walt Mossberg and Kara Swisher, All Things D
41. John Hennessy, Stanford University
42. Jeremy Stoppelman, Yelp
43. Ashton Kutcher, actor, investor
44. Tyler Perry, director, producer, writer, actor
45. Dennis Crowley, Foursquare
46. Kevin Ryan, Gilt Groupe
47. Daniel Ek, Spotify
48. Henry Blodget, Business Insider
49. Mikael Hed, Niklas Hed, and Peter Vesterbacka, Rovio
50. Justin Timberlake, singer, actor
[Image: THR]