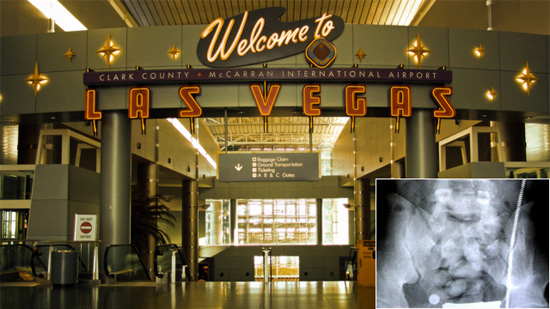 A 43-year-old German man was trying to catch a flight from Las Vegas to London, and was caught with coke in his stomach as he tried to make his way through U.S. customs at Las Vegas' McCarran Airport! (But not the type of coke you would expect to find in someone's stomach.)
And there was only one way they could have gotten that "coke" out.
Authorities said Christopher Adiegwu, 43, was trying to catch a plane from Las Vegas to London on August 17, when U.S. Customs officers inspected him after becoming suspicious that he was carrying narcotics.

Officers took Adiegwu to a nearby hospital for X-rays, where they found several dozen pellets in his upper digestive system.

He was given laxatives, and eliminated 81 plastic pellets containing cocaine, about 1.2 kilograms.

Adiegwu was charged in a criminal indictment filed on Tuesday. He faces federal drug charges for possession of cocaine with the intent to distribute.

If convicted, Adiegwu could face five to 40 years in prison and a $5 million fine.

His arraignment has been set for Sept. 9.

Authorities said Adiegwu is a German citizen and a native of Nigeria. He originally arrived in the U.S. at Los Angeles International Airport on August 5.

The case is being investigated by U.S. Immigration and Customs Enforcement Homeland Security Investigations.
Umm … gross?!?
Be the first to receive breaking news alerts and more stories like this by subscribing to our mailing list.