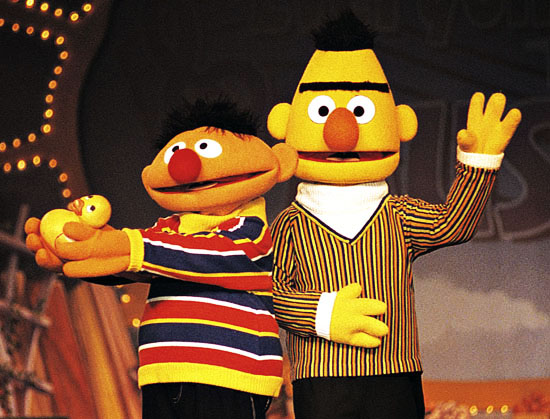 According to a viral online petition signed by over 7,000 people (and counting), Bert and Ernie from Sesame Street are closeted homosexuals who should just go on ahead and get married.
The petition, started by a guy from Illinois named Lair Scott, was created because Scott feels as though Sesame Street needs to marry the famous roommates to promote tolerance and quality to children.
He thinks that promoting Bert and Ernie, two of Sesame Street's most iconic characters, as a married couple instead of BFFs will show kids that there is noting wrong with being gay.
The petition letter reads:
In this horrific age of LGBT kids taking their own lives, they need to know that they ARE BEAUTIFUL and their lives are worth living. Aside from those that are committing suicide, the bullies that facilitate these tragedies need to learn that homophobia is NOT okay. They need to know that acceptance of their fellow human beings would indeed plant a seed of peace that will reverberate throughout the world. We are not asking that Sesame Street do anything crude or disrespectful by allowing Bert & Ernie to marry. It can be done in a tasteful way. Let us teach tolerance of those that are different. Let Sesame Street and PBS Kids be a big part in saving many worthy lives.
Bert and Ernie have long been rumored to be a gay couple, though the Children's Television Workshop denies the rumors.
Reactions to Scott's petition so far have been mixed, but once Sesame Street heard about them, they immediately put an end to all of the speculation regarding the pair of puppets' sexuality.
"Bert and Ernie are best friends," Sesame Street posted on its Facebook account. "They were created to teach preschoolers that people can be good friends with those who are very different from themselves. Even though they are identified as male characters and possess many human traits and characteristics … they remain puppets, and do not have a sexual orientation."
So there you have it. Bert and Ernie are NOT gay … because they are frikkin' puppets!
We're mad Sesame Street even had to go there. SMH…
Be the first to receive breaking news alerts and more stories like this by subscribing to our mailing list.