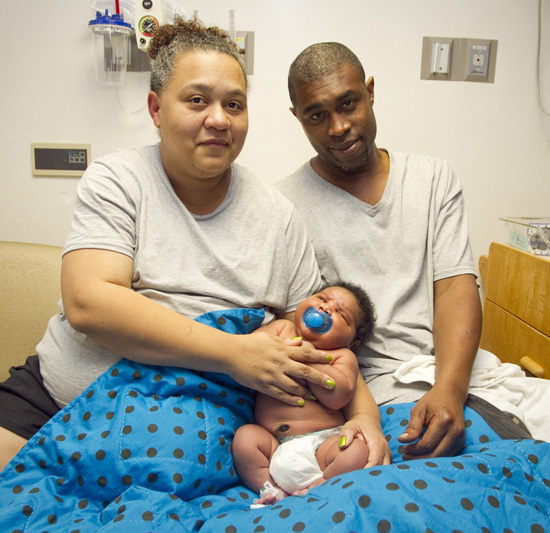 A big baby from Texas weighing in at 16 pounds gave parents Janet Johnson and Micael Brown one hell of a shock.
Hefty JaMichael Brown, who was born at more than TWICE the weight of a normal baby, is believed to be the heaviest newborn to arrive at Good Michael Shepherd Medical Center in Longview, Texas. (They say everything's bigger in Texas … but damn!)
Details (and more pics) are below:
Jamichael Brown came into the world in a big way.

Weighing in at 16 pounds, 1 ounce, and measuring 24 inches long, he was delivered Friday at the Good Shepherd Medical Center, in Longview, Texas, by caesarean section.

His mom, Janet Johnson, says she knew he would be big – expecting 12 pounds – but was surprised after delivery.

"He is heavy" she says, describing holding him. "He feels like 16 pounds."

Jamichael's large birth weight is the result of a condition called gestational diabetes, which his mom has.

According to Dr. David Kendall, the chief scientific & medical officer of the American Diabetes Association, it's caused when a mother's body produces a hormone and becomes resistant to its own insulin.

Since the insulin doesn't work as it should to remove blood sugar, the high levels can be passed on to the baby. Kendall explains sometimes the infants are called "sugar babies" because they have been growing from high amounts of blood sugar.

The babies don't need all that energy, so their bodies store it as fat. He says as many as 1 in 10 mothers have the condition, but it is usually controlled with either diet changes or insulin. Johnson says she was taking medication and adjusting her diet after getting her diagnosis.

The number of cases of gestational diabetes is on the rise. According to a study by researchers in Colorado published in the Diabetes Care Journal the number of cases doubled between 1994 and 2002.

Babies of mothers with gestational diabetes can have health problems at birth. Jamichael has been in the hospital's neonatal intensive care unit, being treated for blood sugar and breathing problems.

His mom says he is doing well, breathing on his own, his blood sugar levels are reaching normal and "he's going to be fine."

According to the Mayo Clinic, women who suffer from gestational diabetes have high risk of developing high blood pressure, and are more likely to develop type 2 diabetes as they age. Exercise and eating healthy can help to reduce those risks.

As for Johnson she's out of the hospital and headed home, hoping her son will follow soon.

Jamichael's father, Michael Brown, told local CNN affiliate KLTV he sees football in his son's future.

[CNN]
Our hearts go out to Ms. Janet Johnson. (That poor, poor woman.)
Be the first to receive breaking news alerts and more stories like this by subscribing to our mailing list.