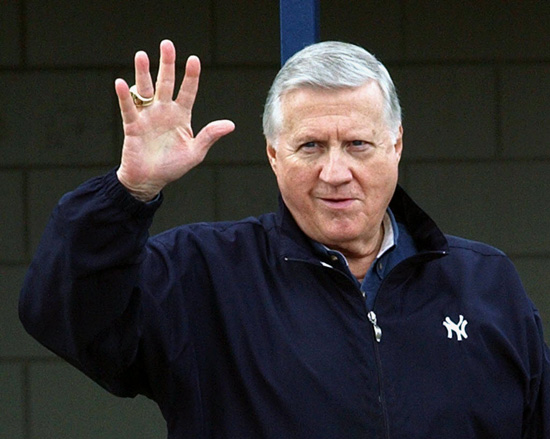 Was late Yankees Owner George Steinbrenner (who died last year), also known as "The Boss," a secret informant for the FBI?
Steinbrener's FBI file, released Monday, shows that he helped the bureau between the years of 1978 and 1983. The files also state that he even helped the feds crack a terrorism case!
More details are below:
Among the documents is a 1988 memo in which FBI officials agreed The Boss "has provided the FBI with valuable assistance." While details were redacted, Steinbrenner assisted in an undercover operation of "a sensitive security matter" that led to an arrest, prosecution and conviction.

In a 1987 letter to the FBI, Steinbrenner's lawyers acknowledge he "knows that he placed the lives of his family and himself in jeopardy through being involved in a terrorist matter."

Steinbrenner became an FBI informant following his 1974 guilty plea to making illegal contributions to President Richard Nixon's reelection campaign, and to a felony charge of obstruction of justice.
Okay,  at least it was for the betterment of national security so he gets a pass! Anything else and he would of have to have been labeled a snitch! ( Harsh but that's reality)
"Snitches get stitches!"
Be the first to receive breaking news alerts and more stories like this by subscribing to our mailing list.