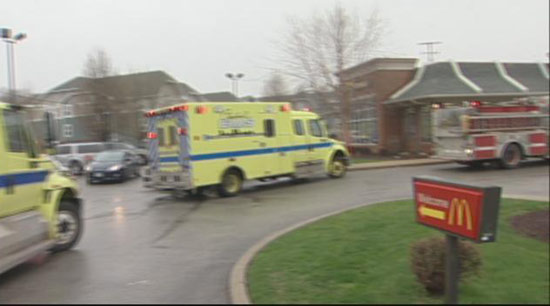 When "Hiring Day" at McDonald's goes HORRIBLY wrong……..
At a McDonald's in Cleveland, Ohio…..an owner and manager were ran over after a fight occurred in the restaurant's parking lot. (Daayummmmm!)
Peep the footage (and read more) below:
Three people were struck by a car and two others were arrested after a fight broke out at a McDonald's during the company's "National Day of Hiring" in Ohio.The event aimed to hire thousands of people, but police say it was disrupted when a fight between two women got out of control, Fox 8 News reports.

"I was filling out my application when I saw two girls fighting," said Joseph Shores.

Police say the fight was over a boy, and it started verbally and escalated into a physical fight that spilled into the crowd.

After that, witnesses say the fight escalated as the two continued to fight inside a car.

"One girl was on top of the driver, beating her. Then the driver went forward, somehow it kicked into reverse, and the car went backward, hitting three people. It was crazy!" said Arnecia Patterson.

Three adults and one 17-year-old female were taken to the hospital for minor injuries.

Among the injured was the owner of the McDonald's, as well as a manager.

"We are cooperating with police. There is nothing more important than the safety and well-being of the people who go in and out of our restaurants," said McDonald's spokesman, Joe Woods.

The restaurant was immediately closed and hiring was temporarily suspended. The closure disappointed the people who were there seeking employment.

"You know, we are trying to get people jobs and this is the way people act? It makes it bad for people like me who can't get a job," added Patterson.

Police are still looking for the driver of the car. The passenger, Natasha Grayer, 22, of Cleveland, was arrested for felonious assault.
Now this is what you call ratchet without a cause. We hope whoever did this gets some serious time behind bars!
Be the first to receive breaking news alerts and more stories like this by subscribing to our mailing list.