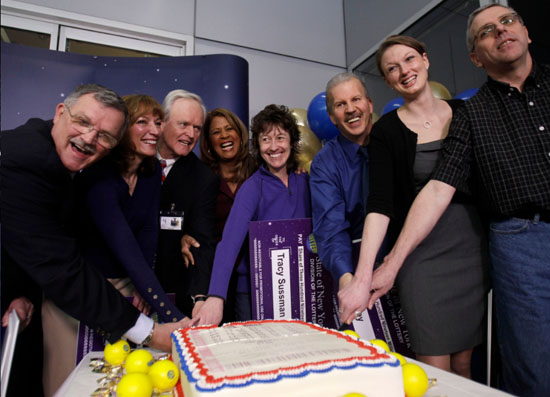 Remember the guy who "felt unlucky" and decided to sit out on an office lottery pool that ended up winning these people right here a three-digit million dollar fortune to split between each of them? Well he's speaking out, and explaining exactly why he decided not to play that day. And his reason is quite pathetic.
Read below to see what it was:
"I didn't have two singles," said Michael Kosko, a six-year employee of the Homes and Community Renewal agency in Albany. "We had played over the past few months, we never hit anything. And I just decided that on that particular day, I wasn't going to play."

Kosko said a co-worker even offered to spot him the two bucks — but he declined. "It wasn't my day," he said in the understatement of the millennium. And he realizes he has no one to blame but himself.

"There's no doubt about it. They went up and down and asked everyone to get in, and a few of us said no," he said. Kosko said he and four of his co-workers who normally bet but bailed last week had no regrets — and now call themselves "The Five Survivors."

"Everything happens for a reason," said Kosko. "[The winners] deserve it, they are the hardest working people I've ever met." Kosko said his girlfriend was a tad miffed, and some of his friends have been giving him the business. "'I could've let you borrow the $2 if you really needed it,' one of them told me," Kosko said.

But he and the unfortunate others are taking the high road. They proudly vowed not to destroy a photocopy of the winning ticket hanging on the office bulletin board. "We left it there as a souvenir," he said.

Besides, he said, after growing up poor in Albany, he feels like he's already won the lottery. "I have a job with the state doing work I love," he said. "I'm not going to sit around and ask myself that question for the next 20 years. I'm moving on. It's all good."

And there's hope "The Five Survivors" might not be shut out entirely after all. While there are no promises, the winners, dubbed by lottery officials as "The Albany Seven," haven't ruled out sharing some of their newfound cash with their hapless co-workers in the Hampton Building in downtown Albany.

"We really haven't had a chance to think about them," winner Kirstin Baldwin said. But winner Leon Peck did not dismiss the idea. "That will be an individual decision," he said.
"An individual decision" is just a really nice way of saying, "They can do whatever they want with their money, but mine is staying in my pocket!" And we don't blame him.
Be the first to receive breaking news alerts and more stories like this by subscribing to our mailing list.