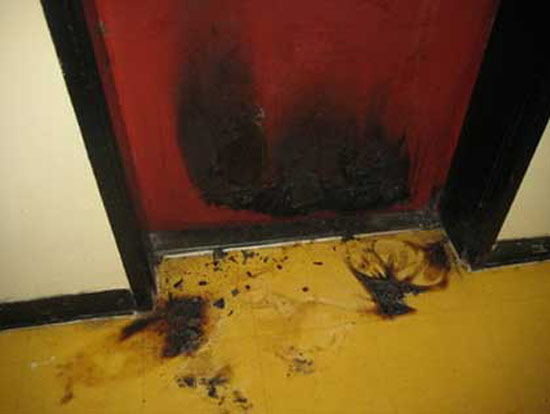 Some guys these days aren't worth a shit. Literally. Just look at the picture above.
A man is facing a number of charges after he stripped naked, took a poop in an elevator, wiped it on his ex-girlfriend's apartment door and lit it on fire. Oh yeah….did we forget to say he also threatened to burn down the entire apartment building she lived in…….and ran around screaming "I'm the devil?" (Really dude?)
Read more below:
Talk about a crappy breakup.

Rasheen (Illuminati) Harrison, 24, is accused of smearing his feces on the door of his ex-girlfriend's apartment and then setting the door on fire.

The woman, who is six months pregnant with Harrison's child, was home at the time, along with her two children and two other people. None of them were hurt.

Police say Harrison's fecal fury began in the girl's building at 5:30 a.m. They allege he stripped naked and defecated in the elevator. He then wiped his excrement on her door and threatened to burn the whole building down, police say. They allege that he then set his clothes on fire and shouted "I'm the devil!"

Police and firefighters reportedly found Harrison naked in the hallway with some evidence still on his hands. Harrison reportedly told them he did it after the girl stole his cell phone.

Harrison's defecating display didn't end there: he apparently repeated his painting technique along the walls of his cell at the 120th Precinct.

Harrison faces a number of charges including arson, criminal mischief, reckless endangerment and more.
SMH. Just plain sick!
Be the first to receive breaking news alerts and more stories like this by subscribing to our mailing list.