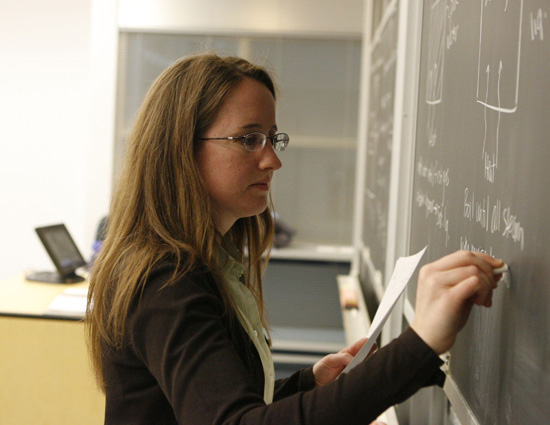 Teachers at our school never "cared" this much…
A female math teacher has been placed on administrative leave after performing oral sex on a student in her class. Guess what her excuse was…..she didn't want the young man to commit suicide. (Seriously???)
Read the full story below:
A Kentlake High School teacher performed oral sex on a 17-year-old student after he described sorrow over a breakup with his girlfriend and detailed ways he planned to kill himself, according to court documents released Monday.

The boy's math teacher, who turned 37 Sunday, was in court Friday and was released from King County Jail shortly before 8 p.m. on personal recognizance. She has not been charged, which is why she is not being named by seattlepi.com, and has been placed on administrative leave.

The teacher groped the teen in her classroom, performed oral sex on him in a dark complex near his house, and sent text messages asking when they would have sex, according to police documents.

The investigation, which began March 8, was referred to the King County Prosecutor's Office on Monday and is being reviewed. The woman is scheduled to have her second court appearance Tuesday, an office spokesman said.

The teacher, who indicated she was married on her school web page and had a spouse listed on her initial court document, did not return a call Monday for comment.

Police documents show the teen switched into one of her math classes during the second semester of his sophomore year and the woman, who taught geometry, algebra and general math, gave him after-school help.

The student "felt like she was the best math teacher he ever had," Detective Christine Elias wrote in a probable-cause document.

Then the teen's girlfriend broke up with him and police say he became upset. The teen's mother became suspicious after the teacher called their home concerned about him.

The Sheriff's Office was first contacted in early February when the teen allegedly threatened to kill himself. During a meeting with his parents, the math teacher described two ways he could cause harm — methods his parents were not aware of, according to court documents.

The boy's "mother logged onto the family's cellular phone account due to her increasing suspicions," Elias wrote. "She found almost 800 text messages back and forth" from Jan. 25 to Feb. 21.

The teary-eyed teacher also allegedly pleaded with an assistant principal after the student was suspended for fighting with a friend, saying it was the other student who started the fight.

Police say the teacher was told verbally and in writing Feb. 11 to stop all personal contact with the student, but it continued.

"At one point (the teen) sent her a text message saying she was beautiful," Elias wrote. "She sent him a message stating that she was attracted to him."

The teacher then "sent text messages to (the teen) saying that she fantasizes about him and how she wanted him," the detective wrote. "When the student told (his math teacher) that they got a hot tub she sent him a message stating that she would fantasize about that."

Police say the teacher groped him in her classroom later and persisted with text messages, saying it would be worth it for them to meet. They drove to a housing development near where he lives and she performed a sex act, according to court documents.

She then sent text messages asking when they were going to have sex, according to the detective.

The Kentlake teacher's arrest last week occurred the same day a former Garfield High School teacher, Taryn M. Fairbanks, pleaded guilty to having sex with a 17-year-old student in 2010.

Fairbanks, 34, now faces six months to a year in jail after pleading guilty to first-degree sexual misconduct with a minor, a felony.

The age of consent in Washington is 16, however there are exceptions for teachers and adults in positions of authority.
Where are all the freaky teachers when you need one? (LOL…just joking people) But seriously, this whole teacher-student thing is getting old!
Be the first to receive breaking news alerts and more stories like this by subscribing to our mailing list.