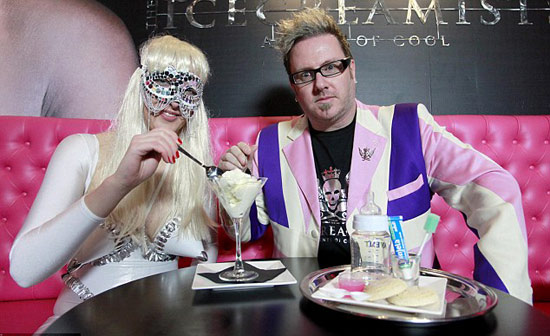 What will they think of next???
An ice-cream parlor in London now serves ice-cream made out of breast-milk. They call it "Baby Gaga."
Read the story below:
A London ice-cream parlor called Icecreamists is making a splash with a special ice cream made from breast milk. The flavor, dubbed "Baby Gaga," is made from the breast milk of a mother from nearby Leeds, Madagascan vanilla pods and lemon zest, according to the International Business Times.

The eatery pays 15 pounds ($24) for every 10 ounces of milk. At least 15 mothers have volunteered to donate their breast milk. While the London ice-cream parlor owners are convinced they have a hit on their hands, here in the states, the reaction to breast milk food products has been lukewarm at best.

Miriam Simun, a New York designer interested in sustainable food systems and the human body, faced a lot of questions and disgust when she debuted a breast milk cheese, she called Human Cheese. "Human cheese is initially a pretty shocking concept to most people," she told the Daily News. "I understand the visceral reaction – drinking milk from a woman other than your mother is a pretty big taboo in many cultures."

Simun analyzed people's reactions and questioned why they found it so distasteful. "Why is cow or goat milk not disgusting?  Vegans tend to get this pretty quickly," she said.  "And if it is disgusting – well, does that mean we should start thinking differently about all the other ways we use the human body – to make wigs, to transfuse blood, to be surrogate mothers?"

Simun's cheese is created for exhibit and for tastings but is not approved for sale. Last year, New York chef Daniel Angerer was spanked by the Health Department for serving a cheese made from his wife's breast milk. Food critic Gael Greene described tasting Angerer's forbidden cheese in The Daily Beast and declared it, well, interesting.

"It's not the flavor that shocks me," she wrote. "It is quite bland, slightly sweet, the mild taste overwhelmed by the accompanying apricot preserves and a sprinkle of paprika. It's the unexpected texture that's so off-putting. Strangely soft, bouncy, like panna cotta."
This is just a little too weird for our taste….
What do you think about "Baby Gaga?"
Be the first to receive breaking news alerts and more stories like this by subscribing to our mailing list.