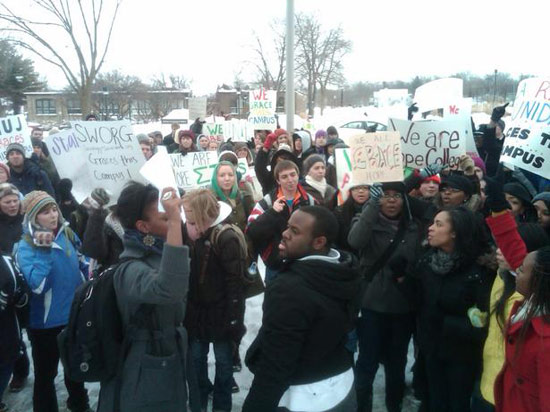 This is a crying shame! Even in college….it's hard to feel safe anymore these days.
Read more below:
HOLLAND, Mich. (WZZM) – Students at Hope College are not happy with their school's response to a racially-charged fake fraternity. Close to 200 Hope College students took to the streets this morning to protest the college's response to recent racially motivated incident on campus. Posters were recently put up around campus, promoting a fake fraternity called "Kappa, Kappa, Kappa," and playing up the acronym "KKK."

"I was scared. I was actually scared," said Black Student Union Vice President Robert Phillips. "This poster says nothing but hate. It's murder, it's ignorance." Those who took part in today's march are not satisfied with the president's written response. He condemns the posters, but students say it doesn't go far enough to create a inclusive feeling among people of all colors on campus. "It just came off as an 'us' versus 'them'. We wanted to make sure that we're not here as a separate community," Phillips said. "We're here as one community and we're going to fight for the same issues."

"The way that it was worded, it make it sound like students of color our gracing our campus in a different way," said Hope Senior Julia Peterson. "They become 'the other." Peterson says she expected a response, but that a march on campus may have been a bit extreme. "I do think it was a bit of an overreaction," Peterson says. "The act itself was not intended, in my opinion, to be overtly racist."

During the march, students from the BSU presented letters to the president, addressing issues with race and diversity. Student leaders say the confrontation was positive and they believe the administration is taking them seriously. "The march wasn't to bash the administration, It was to let everyone know that we're here as one body, one spirit," Phillips said. "When things like that happen, we're here together, not as us versus them."
Somethings will never change.  SMH……
Your thoughts?
Be the first to receive breaking news alerts and more stories like this by subscribing to our mailing list.