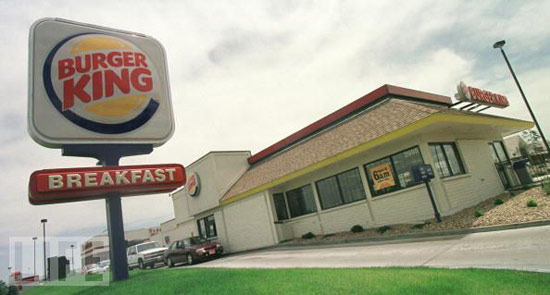 We don't know whether to fall over in our chair laughing or feel downright disgusted by this….
A Denver man is accused of pulling his "wood pecker" out at a Burger King drive-through….and asking an employee if she would like to "handle his Whopper."
Guess he really needed help with his meat! (LOL)
Peep the full story below:
A Longmont man is accused of pulling into a Burger King drive-through with his penis in his hand and asking a 24-year-old employee at the window if she would like to "handle his Whopper," early today. Before he could drive away, the woman jotted down his tag number. Longmont police pulled over Richard C. "Rick" Troupe, 52, about 2 miles from his home a short time later after the incident at 3:25 a.m., said Police Commander Jeff Satur. "This was a very traumatic experience for this young woman," Satur said. "She had no idea what he might be capable of."

While indecent exposure charges are being investigated, Troupe was booked on drunken driving chargers and released on $1,500 bond earlier today. Boulder County Judge Care Hoye Enichen, however, also issued a restraining order that requires Troupe to stay away from the victim, according to court records. Troupe did not immediately return a phone call seeking his side of the story.

Satur said restaurant employees reported that Troupe had been in the parking lot earlier, had gone through the drive-through but didn't order any food. "He returned a short time later and he wasn't wearing any pants," Satur said.

Court records show Troupe pleaded guilty to drunken driving in Boulder County in 1992, was divorced in Boulder County in September and filed bankruptcy in 2005. Records also indicate he has worked as a machinist and a farmer.
Wow. Really dude…. Really? You pulled your penis out at a fast food drive through and compared it to a frikkin' Whopper?!? GTFOH!!!
Your thoughts?
Be the first to receive breaking news alerts and more stories like this by subscribing to our mailing list.