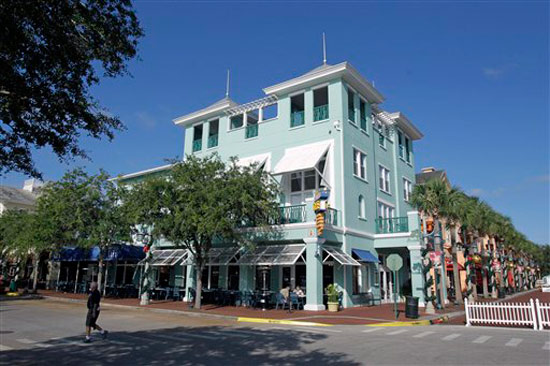 Not only do Disney stars turn out bad…………apparently, so do their communities!!
A town built by Walt Disney Co. experienced their first murder since being built nearly 15 years ago over the holidays. Read the full story below:
A picture-perfect Disney-made town had its first murder over Thanksgiving weekend. Former teacher Matteo Giovanditto, 58, was found dead on his kitchen floor covered up by a blanket. Celebration, the master-planned Florida community south of Disney World, had never reported a homicide in its 14-year existence before the slaying. Residents woke up Tuesday to the sight of yellow crime-scene tape wrapped around a condo near the Christmas-decorated downtown, where Bing Crosby croons from speakers hidden in the foliage.

The community's famous friendliness is what brought investigators to Giovanditto's body: Neighbours hadn't seen the victim for days, so they filed a missing person's report, then went into his condo a day later and found him. Neighbors hadn't seen Giovanditto, who owned a bottom-floor condo at a building called The Idlewyld, since the day before Thanksgiving. His black Corvette was also missing. A neighbour was supposed to walk Giovanditto's dog, Lucy, over the weekend, but he wasn't responding to her calls.

With 11,000 residents, Celebration is something of anomaly in Central Florida. There's no suburban sprawl – the entire place is reminiscent of a quaint village. It's a town where people give Christmas gifts to their favorite Starbucks barista, where welcoming wooden rocking chairs sit lakeside on a sidewalk without being stolen, and where neighbours tend to get suspicious if they notice you're not around. A missing person's report was filed Sunday, and the next day neighbours went into his apartment and found his body.

Investigators won't discuss the crime scene or say how Giovanditto died. 'This is very rare and unusual for a crime of this magnitude to occur in this community,' said Twis Lizasuain, a sheriff's spokeswoman. On Tuesday, detectives poked a Crimestoppers sign offering a reward into the lush grass outside the condo. They found the Corvette at an apartment building in a neighboring Orlando suburb. His relatives were notified of his death. As word of the homicide blew around town like the leaves from the maple trees that line the sidewalks, people started to worry. 'I've always thought of Celebration as a very safe community,' said Heather Hardy, who lives there six months a year and was sitting on a wooden rocker downtown, reading a book.

Officials were quick to soothe the residents, even with the killer still at large, and called Giovanditto's death an 'isolated incident.' Few neighbors would talk about Giovanditto, who moved to Florida from Massachusetts. The Orlando Sentinel reported that he had once been a teacher; one neighbor thought he was retired. Another neighbor said he now worked with troubled youth. The killing sullies the type of perfection envisioned in 1989 when Peter Rummell, then-president of the Disney Development Corp., wrote to then-Disney CEO Michael Eisner about building a new town on vacant, Disney-owned land in Osceola County.

The community would be a 'wonderful residential town east of (the highway) I-4 that has a human scale with sidewalks and bicycles and parks and the kind of architecture that is sophisticated and timeless. 'It will have fiber optics and smart houses, but the feel will in many cases be closer to Main Street than to Future World,' Rummell wrote in the letter. Houses incorporated 'New Urbanism' ideas such as placing the garage out of sight in the back and a front porch close to the sidewalk to encourage neighbor interaction.

Restrictions on home color and architectural details also were in the community's rulebook. Colonial, Victorian, and Arts and Crafts-style homes grace the streets; the downtown is a mix of postmodern buildings and stucco condos. Residents arrived in 1996. Critics viewed it as something out of 'The Truman Show,' or 'The Stepford Wives.' Disney relinquished control of Celebration several years ago; the town is now maintained like any other in Osceola Count.
SMH…. Folks are just killin' each other everywhere these days! NO WHERE is safe. Not even a family-friendly town built by Walt Disney apparently.
Be the first to receive breaking news alerts and more stories like this by subscribing to our mailing list.