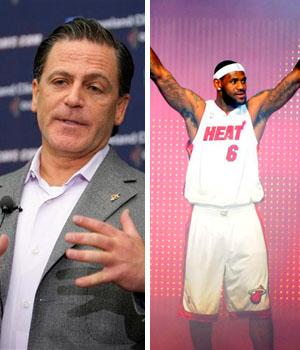 Cleveland Cavaliers owner Dan Gilbert better think before he speaks (or writes) the next time he feels like one his slaves players betrayed him.
NBA commissioner David Stern fined Gilbert $100,000 for an open letter he posted to NBA.com last week lashing out his former star player LeBron James for switching to the Miami Heat to join Dwyane Wade and Chris Bosh.
Gilbert called James' decision "narcissistic" and said he was displaying "cowardly behavior." He also guaranteed his team would win an NBA title "BEFORE THE SELF-TITLED FORMER 'KING' WINS ONE."
The next day, Jesse Jackson spoke on Dan Gilbert's comments and accused him of treating LeBron like a "runaway slave" and said that he put he player in danger with his highly publicized statement:
"He speaks as an owner of LeBron and not the owner of the Cleveland Cavaliers. His feelings of betrayal personify a slave master mentality. He sees LeBron as a runaway slave. This is an owner employee relationship – between business partners – and LeBron honored his contract."
Dan released another statement Monday (Jul 12) in an effort to put an end to the issue:
"I strongly disagree with Rev. Jesse Jackson's recent comments and we are not going to engage in any related discussion on it. Going forward, we're very excited about the Cavaliers and the positive future of our region."
And after David Stern fined Gilbert $100,000 for his crass statement, Stern said:
"He was completely correct in expressing his disappointment," Stern said, adding that Gilbert's statement and the sentiments he expressed in a follow-up interview with the AP were "a little bit extreme."
Be the first to receive breaking news alerts and more stories like this by subscribing to our mailing list.