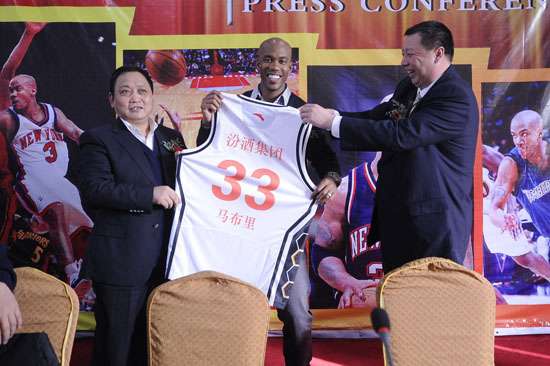 Since no NBA team will touch Stephon Marbury and his egg-head with a ten foot pole we guess his next option would be to go play basketball in another country … and that's exactly what he did.
Stephon, now known as "Ma Bu Li," attended a press conference in Taiyuan, China Wednesday (Jan 27) to sign with Shanxi Zhongyu of the CBA (China's basketball league).
Back home, Mr. Marbury's run-ins with coaches and teammates at the New York Knicks and other teams battered his reputation. After terminating his contract in New York early last year, Mr. Marbury played briefly for the Boston Celtics, and according to Zhongyu, he accepted an offer to move to China after he didn't get a satisfactory offer in the NBA.

But his falling out with the Knicks was not publicized as much in China as it has been in the U.S. Though die-hard Chinese fans say they are aware he has had less playing time in recent years, Mr. Marbury's reputation as a top-notch point guard is still relatively untarnished here.

The 32-year-old posted a greeting to Chinese fans on his blog Tuesday, attracting more than 4,000 subscribers within hours. One user posting under the name JohnLee7125 wrote a response to Mr. Marbury that said: "I think you can do better in China, because we love you."

SOURCE: WSJ

We hope the Chinese know what they're getting themselves into… SMH
PHOTOS: GETTY IMAGES

Be the first to receive breaking news alerts and more stories like this by subscribing to our mailing list.