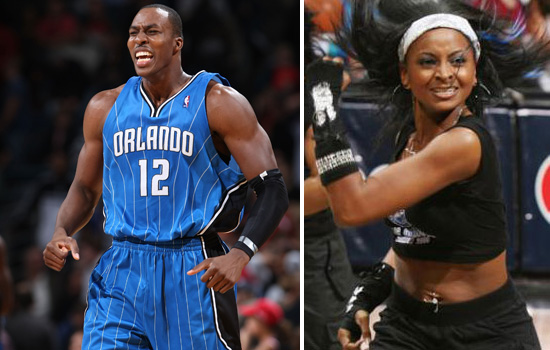 He told her to keep her mouth shut, but it looks like she didn't listen! NBA star Dwight Howard is reportedly suing his 2-year-old son's mother Royce Lyndsay Reed for over $9 million bucks all because she (or someone close to her) posted potentially damaging comments about Howard on a Web site called "Lipstick Alley." The Orlando Magic center is also requesting legal custody of their young son.
In documents obtained by Eyewitness News (read them), Howard is asking for $9.2 million for damages caused to his name and image over the Internet with comments like Dwight "has another baby in Atlanta," "he is raunchy" and "he hasn't shown up for his visitation in damn near three months." Royce Reed, who's accused of writing the comments or encouraging others to, reportedly met Howard when she was a Magic dancer and the two had a son but never married. Eyewitness News tried to talk with her about the lawsuits, but her brother said he hadn't seen her.

"I have no idea where she is. She hasn't spoken at all," he told WFTV reporter Greg Warmoth. Reed's attorney would not comment about the lawsuits. Howard's attorney acknowledged the court filings this week and did say they are in an effort to protect Dwight's image as a person, a player and a father. Eyewitness News found in the document fear that disparaging remarks could damage Dwight's relationship with the companies he endorses, including Adidas and McDonald's.

Part of the $9.2 million in damages is a math formula, where Dwight is asking for $500 per disparaging remark already posted online multiplied by the 17,410 times they have been viewed. One Magic fan, who's also a single father, understands where Howard is coming from. "Whether $9 million or ten dollars, he has a right to stand up for himself," Paul Poleon said.

The Orlando Magic would not comment and said Dwight also would have no comment.

SOURCE
$9.2 mil over some message board comments?! We know she regrets the executive decision she made before typing that sh*t out (or having a friend type it out … whatever).
Be the first to receive breaking news alerts and more stories like this by subscribing to our mailing list.