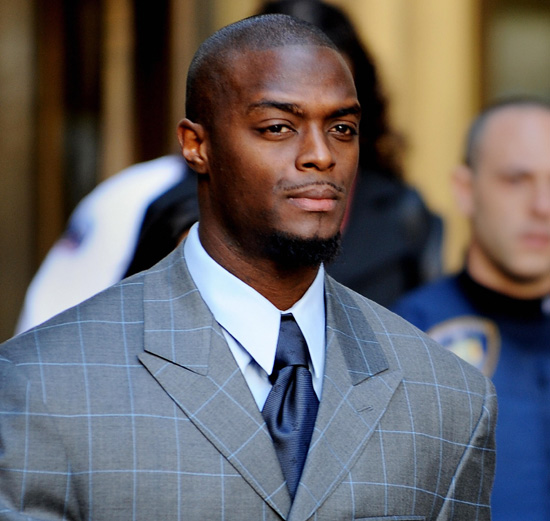 Former NY Giants footballer Plaxico Burress plead guilty to illegally possessing a weapon Thursday morning (Aug 20). 32-year-old Burress is free on bail and will officially be sentenced on September 22nd, where he faces a two-year prison sentence, according to a spokeswoman for the District Attorney's office. Upon release from prison, Burress will spend two years on house arrest.
The former NY Giants wide receiver accidentally shot himself in the leg at a Manhattan nightclub on November 29th 2008 with a pistol he was carrying in the waistband of his jeans. Burress wasn't licensed to carry a pistol in neither New York nor New Jersey, where his teammate, linebacker Antonio Pierce, arranged to have the pistol delivered after driving Burress to the hospital immediately following the incident. The district attorney wanted to charge Pierce as well, but the grand jury didn't indict him on any charges. No one, not even employees of the hospital Burress was admitted to, or anyone in the NFL, called the police to report the gunshot wound or the incident, which was required by law. In fact, one of the hospital works was suspended following the incident.
Immediately following the shooting incident, the Giants suspended Burress and released him in April of 2009.
Be the first to receive breaking news alerts and more stories like this by subscribing to our mailing list.