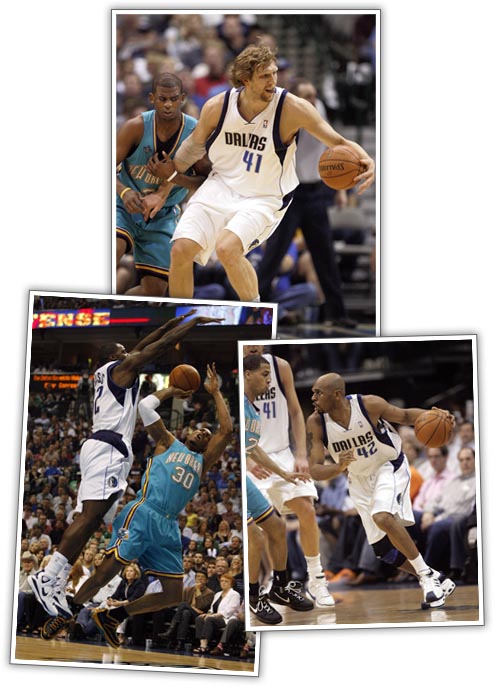 (Photos: Getty Images) The Dallas Mavericks will not be embarrassed again by the New Orleans Hornets especially on their turf. Dallas took the victory by a 10-point lead (97-87). Jannero Pargo shot his best game of the season last night with 30 points, 2 assists, and 1 steal. Chris Paul with 16 points and 10 assists was not excited about this loss but he knew he did his best. Chris Paul responded quote on quote:
"I think we got a lot of the shots we wanted. Paul continued, We just missed them."
Game leader, Dirk Nowitzki scored a max of 32 points, 19 rebounds, and 6 assists to get the Mavs to a 1-2 standing point. Jason Terry had 15 points, 4 assists and 2 steals. Josh Howard had 15 points. MVP of last night's game, Dirk Nowitzki, responded with joy over their first win:
"We wanted to make sure we made it a series and win this first one," Nowitzski said, "They're going to keep coming. "It's going to take the same effort, the same intensity."
The New Orleans Hornets have not won against Dallas Mavs home court since 1998.
Game 4 is Sunday 9:30 ET on TNT
Be the first to receive breaking news alerts and more stories like this by subscribing to our mailing list.