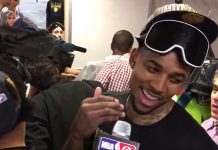 Nick Young, also known by his God-given nickname "Swaggy P," is hella excited about winning his first NBA championship, and he isn't letting ANYONE steal his joy, you hear me?
Apparently, LeBron James threw a temper tantrum after Game 1 and punched a blackboard in the locker room out of frustration, causing him to suffer a bone contusion in his right shooting hand. James said he played in the last three games of the Finals with the injury.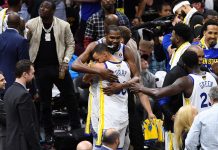 Bring out the brooms! The Golden State Warriors secured their third NBA championship title in four years with a 108-85 win over the Cleveland Cavaliers Friday night (Jun. 8).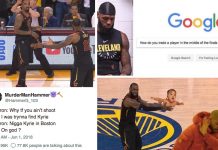 When you f**k up your team's chances of winning the first NBA Finals matchup, you can expect to become the butt of endless jokes and the subject of countless memes all over the Internet. We're talking about you, J.R. Smith!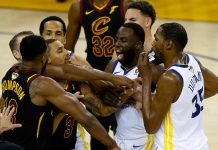 In the final moments of Game 1 of the 2018 NBA Finals, Tristan Thompson of the Cleveland Cavaliers was ejected from the game, and immediately afterward, tried to fight Golden State Warriors player Draymond Green.