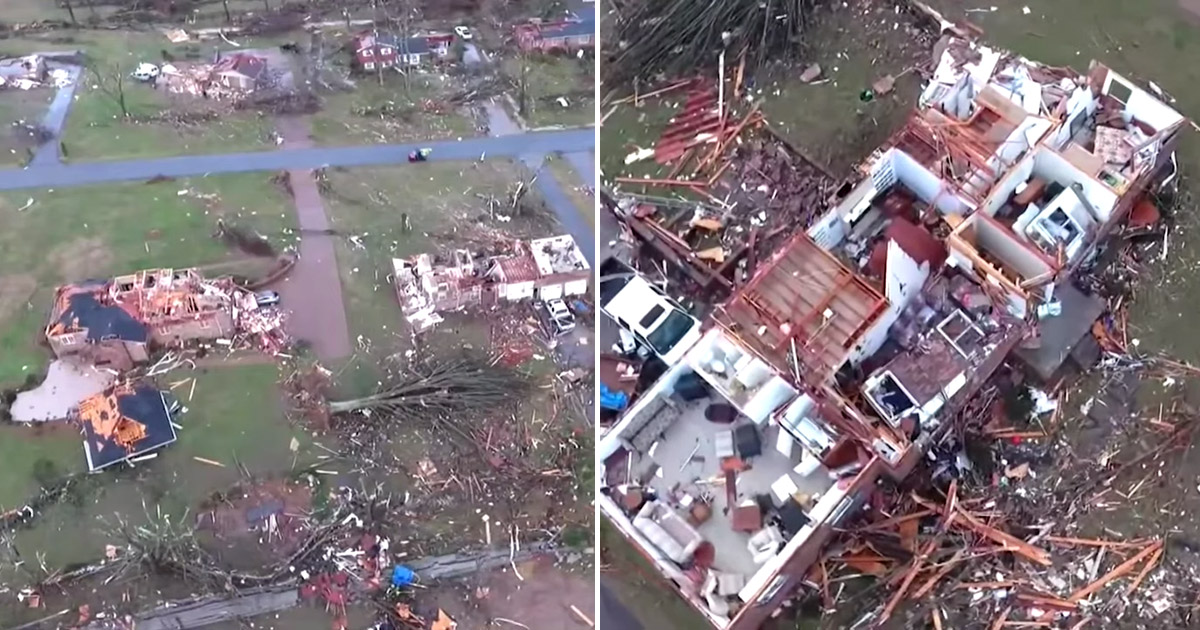 Early Tuesday morning (Mar. 3), a tornado ripped through central Tennessee, touching down in Nashville and leaving behind a wake of destruction.
The extreme storm led to the deaths of at least 22 people across four counties, injured several others, toppled at least 45 buildings in Nashville, and left 50,000 households and businesses without power.
It's the highest death toll caused by a tornado in the United States since 23 people were killed in Alabama exactly one year prior.
Drone footage captured some of the damage in Nashville that has left many parts of the city unrecognizable, and pictures continue to pour in showing the devastation.
Governor Bill Lee declared a state of emergency, and President Trump said he would be visiting the state later this week.
"I want to send my warm wishes to the great people of Tennessee in the wake of the horrible, very vicious tornado," he said at the National Association of Counties Legislative Conference.
The carnage comes as residents prepare for the upcoming primaries election on Super Tuesday, and it has left officials scrambling to ensure that residents are able to cast their votes at the polls.
Reactions have been pouring in via social media as the news of this tragic storm continues to spread.
I was here for 1998 East Nashville tornado. Nashville came back.

I was here for the historic 2010 flood. Nashville came back.

And now I'm here for the March 3rd, 2020 tornado.

Nashville will come back from this too. #comeback #codered pic.twitter.com/GJWPjfpH3R

— Justin McFarland (@ThisJustinTv) March 3, 2020
At a legendary music venue in East Nashville, the building was nearly destroyed, but the iconic "I believe in Nashville" mural remains.

It's a sign of hope and redemption that made it through a night of terror. #NashvilleTornado pic.twitter.com/0qDAyIznWI

— Christopher J. Hale (@chrisjollyhale) March 3, 2020
Jane and I send our deepest condolences to the families of those whose lives were lost to the severe storms and tornadoes in Tennessee.

The federal government must do everything it can to help rescue those missing or harmed and rebuild these communities. https://t.co/FfkC8TnRSD

— Bernie Sanders (@SenSanders) March 3, 2020
There was a tornado last night, at least 9 dead, many hospitalized, 40+ buildings destroyed. Lots of damage. Thankfully we're okay but so many aren't this morning. Pray for Nashville please.

— Robby Starbuck (@robbystarbuck) March 3, 2020
We ducked around this cell and landed at john tune airport around 11:30 last night. Glad we landed when we did. Wouldn't have been good an hour later. It was the cell that turned into the tornado. Lot of people lost their homes. No one comes together as a city like Nashville does pic.twitter.com/qvCjrYNu0x

— Dierks Bentley (@DierksBentley) March 3, 2020
Wow. Just waking up & seeing a big tornado ripped through parts of downtown Nashville & hit East Nashville especially hard. A lot of damage. My thoughts and prayers to all those impacted by this storm overnight. And THANK YOU to our 1st responders for their service and spirit. ??

— Kirk Herbstreit (@KirkHerbstreit) March 3, 2020
Be the first to receive breaking news alerts and more stories like this by subscribing to our mailing list.