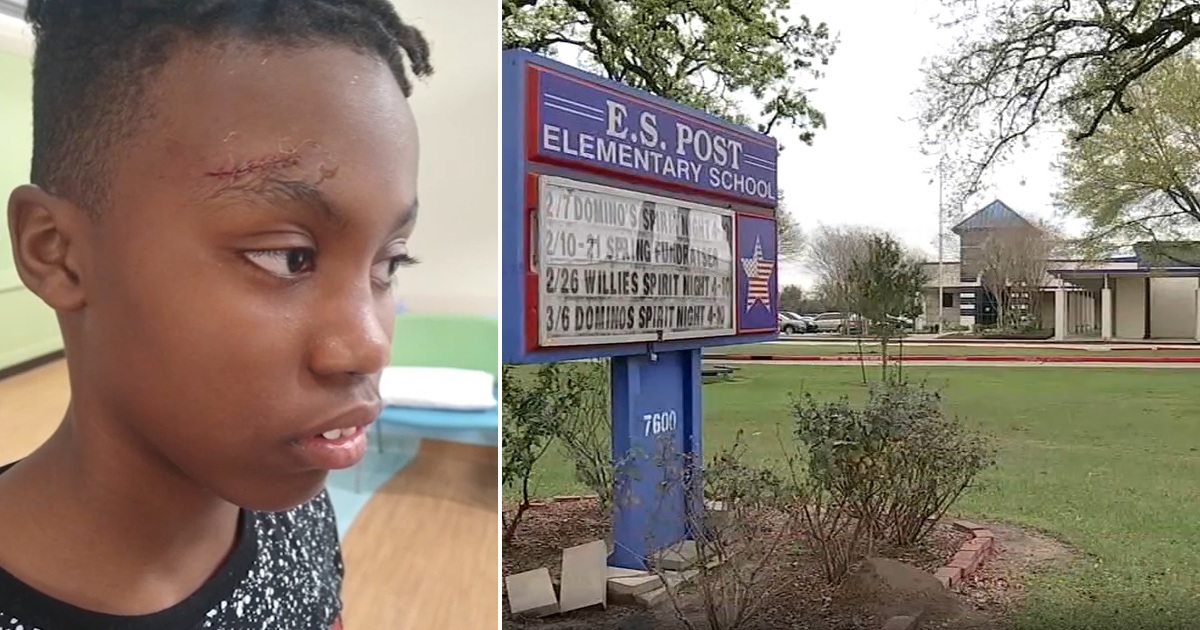 An 11-year-old elementary student had to be airlifted to a hospital and received six stitches following an incident with a teacher.
Last week, Kamauri Williamson, a fifth-grader at Post Elementary School in Houston, Texas, was left waiting at school with a large gash just above his eyebrow until his mother arrived.
Kiana Randolph rushed to the school after receiving a phone call saying that her son had been injured. But she was shocked to find her son with a wound so serious that he was airlifted to a nearby hospital and treated with multiple stitches.
Randolph was even more shocked when she saw footage of the incident that caused the large wound Williamson suffered.
According to surveillance footage, Williamson was injured after a teacher confronted him about a juice box during lunch.
The footage shows the male teacher grabbing the 11-year-old by the hood of his sweatshirt and slamming his head against a counter.
"You see him at one point, my son's feet lift up off the ground and he is basically being choked," Randolph told ABC affiliate, KTRK.
"They're supposed to be in a safe place while you're at work, and to get this type of reaction of a head being busted open, especially over a juice box," she continued.
"Nobody deserves this, especially my son. I would never had thought that would have happened to my kid."
The teacher involved in the incident has been placed on administrative leave and the school district has launched an investigation into the matter. He has not been named, nor charged with a crime.
Randolph strongly feels more consequences are needed than administrative leave.
"[That teacher] needs to not be able to work with children again. Just, not at all," she said.
"That was just very, very upsetting to watch as a mother. It is very hurtful. No one's child should be treated like that in any manner."
Randolph has obtained legal counsel the family's lawyer is hoping for the teacher to be prosecuted for his actions.
"I have a lot of trust in the justice system, so I hope this guy is going to be prosecuted for doing something he shouldn't have," said Adam Ramji, the family's attorney.
"More so, other teachers need to be aware that if you're around children, there are certain ways to manage it and definitely certain ways not to manage it."
Williamson has returned to school while the teacher remains on leave.
Be the first to receive breaking news alerts and more stories like this by subscribing to our mailing list.