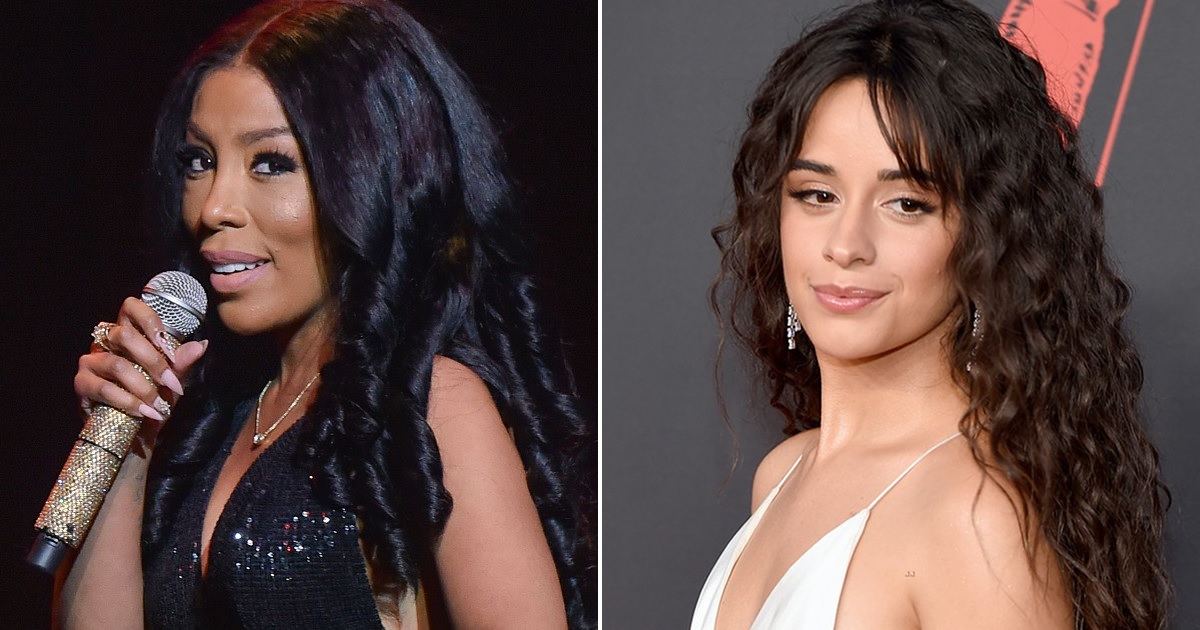 Welp! K. Michelle is definitely not a Camila Cabello fan and she wants everybody to know it.
While most of the country is celebrating #ImpeachmentDay this Wednesday (Dec. 18), K. Michelle casually dropped a tweet to shut Cabello all the way up.
K. checked the pop singer for her racist past and told her to have several seats.
Camila Canello needs to find a dick to suck. Racist Rat

— K. Michelle (@kmichelle) December 18, 2019
K. also gave zero effs when it was brought to her attention that she misspelled Cabello's last name.
Whatever her name is

— K. Michelle (@kmichelle) December 18, 2019
The singer's understandable attack on Cabello comes just hours after Cabello—whose debut solo album just dropped—released a lengthy apology regarding her racist social media past.
"I am sorry from the bottom of my heart," she wrote in a message she shared on both Twitter and Instagram.
Cabello wrote in part:
"When I was younger, I used language that I'm deeply ashamed of and will regret forever. I was uneducated and ignorant and once I became aware of the history and the weight and the true meaning behind this horrible and hurtful language, I was deeply embarrassed i ever used it.

"I apologized then and I apologize now. I would never intentionally hurt anyone and I regret it from the bottom of my heart."
I'm sorry from the bottom of my heart. pic.twitter.com/iZrnUawUAb

— camila (@Camila_Cabello) December 18, 2019
The apology is in response to her racist social media past coming back to haunt her.
Before she was famous, Cabello used the n-word in multiple posts on the social media platform Tumblr.
She also shared numerous memes and GIFs featuring the racial slur, racial stereotypes like black people with fried chicken and watermelon, and other racist or racially insensitive material.
These posts resurfaced just one day before Cabello's apology and K. Michelle's tweet on Dec. 17 via Twitter account @motivatefenty.
exposing camila cabello's racist and downright disturbing tumblr reblogs: a thread

— ? || fan account (@motivatefenty) December 17, 2019
Camila literally said the n word on her tumblr pic.twitter.com/95lUFxAQzs

— ? || fan account (@motivatefenty) December 17, 2019
She reblogged this extremely racist gif that stereotypes an African-American child pic.twitter.com/t33aEJ3GT1

— ? || fan account (@motivatefenty) December 17, 2019
As a Normani stan, K. Michelle also probably knows the racism that Normani encountered during her Fifth Harmony days with Cabello, specifically because of Cabello's fans.
In 2016, after Normani made a comment about Cabello, which some Cabello fans perceived to be shady, Normani was bombarded with racist comments calling her the N-word and "Normonkey," as well as photoshopped images of monkeys over her face.
She was forced to quit social media at the time due to the constant harassment.
Normani—who is gearing up for the release of her own solo album debut—reflected on the racist incident and the support of Cabello and her bandmates in a cover story interview with The Fader earlier this month.
"[The girls] offered support, but I'm not sure they could be there in the way that I needed because it's not their experience. They don't have to face on a day-to-day basis the things that I have to. I definitely learned after that that I had to walk a different way. I can't look like everybody else."
However, Normani affirms that there's currently "no bad blood" between her and Cabello, noting that they see each other at major award show events and always speak.
Though Normani and Camila Cabello are on "good terms," we at least know one thing: K. Michelle has Normani's back!
Be the first to receive breaking news alerts and more stories like this by subscribing to our mailing list.