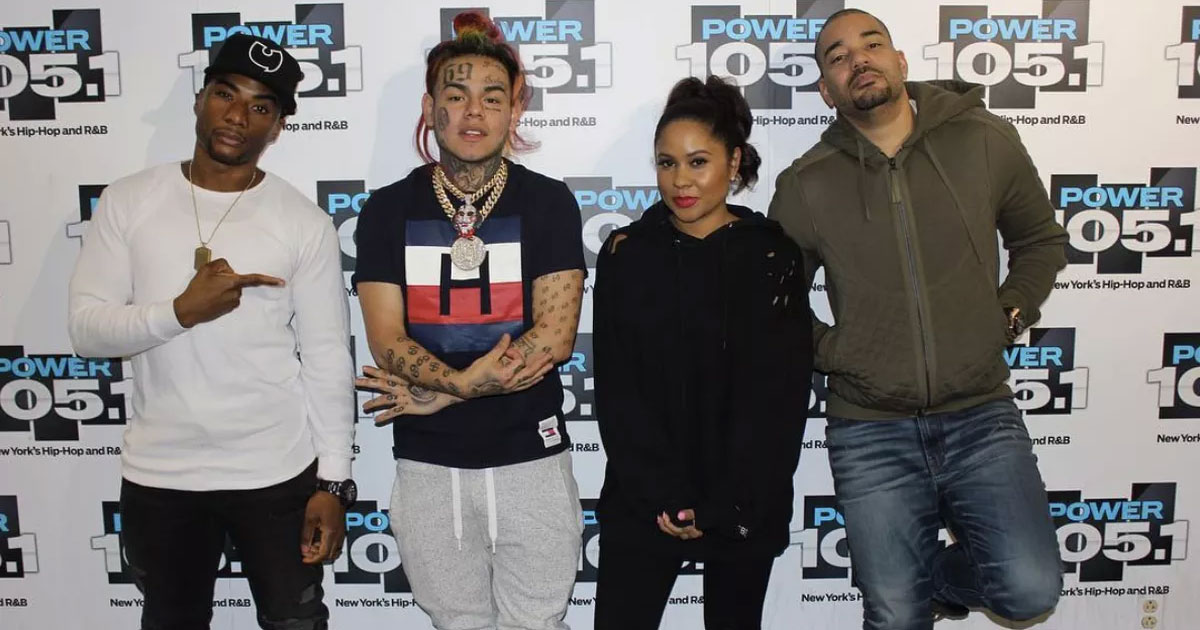 Today is the day we find out whether or not Tekashi 6ix9ine will be walking out of court as a free man.
With his potential release looming, the rapper's team has apparently reached out to The Breakfast Club hosts Charlamagne Tha God and DJ Envy separately to offer them first dibs on his first interview … at an undisclosed location, of course, since so many people want Tekashi's head.
However, neither Charlamagne nor Envy are even remotely interested in giving Tekashi Snitch9ine a platform, and they both explained their reasonings on The Breakfast Club Tuesday (Dec. 7).
"I feel like he used his gang affiliation to benefit himself," Envy said. "First, he came out, he was allegedly a Crip, then he was allegedly a Blood, and he was talking crazy online for clout and for people to stream his music and it worked."
Envy continued: "When that backfired, then you decided to tell on everyone that you was just riding on. All those hits that you allegedly did, that didn't work for you. So what do you do, you turn on everybody? You get released and you're rewarded for it?
"I just don't necessarily think it's a message that I wanna do. I don't want to promote to kids that you go wild and do some stupid ish and you just go tell on the people you've done and all of a sudden you come out and can put out records and it's all cool."
Charlamagne agreed with Envy about not wanting to be associated with the troubled rapper following his legal drama.
He also said he doesn't believe a 6ix9ine interview, at this stage, would offer anything of educational value to listeners, and he doesn't feel like the rainbow-haired troublemaker has truly learned his lesson.
"When we sit down with someone, it has to entertain or educate or possibly both," Charla said. "Would it be entertaining? I'm sure it would be. But I think it could absolutely send the wrong message.
"There's a lot of misinformation in that 6ix9ine situation. It doesn't feel like there's been any accountability on his part and it would be irresponsible of us to empower that dysfunction."
Stepping in to play devil's advocate, Yee said Tekashi could be a changed man after spending time behind bars, and suggested that giving him an interview could provide him a platform to tell his side of his story.
"What about if there is a story of redemption here?" she asked. "What about if there is a lesson to be learned for people? We don't know what it is yet."
Charlamagne explained that doing interviews should be the least of Tekashi's worries.
"That young man has a target on his back," he said. "He needs to come home and figure out his life. Figure out who he is as a man before he jumps into the character of 6ix9ine. Daniel Hernandez has to do some soul searching."
Be the first to receive breaking news alerts and more stories like this by subscribing to our mailing list.