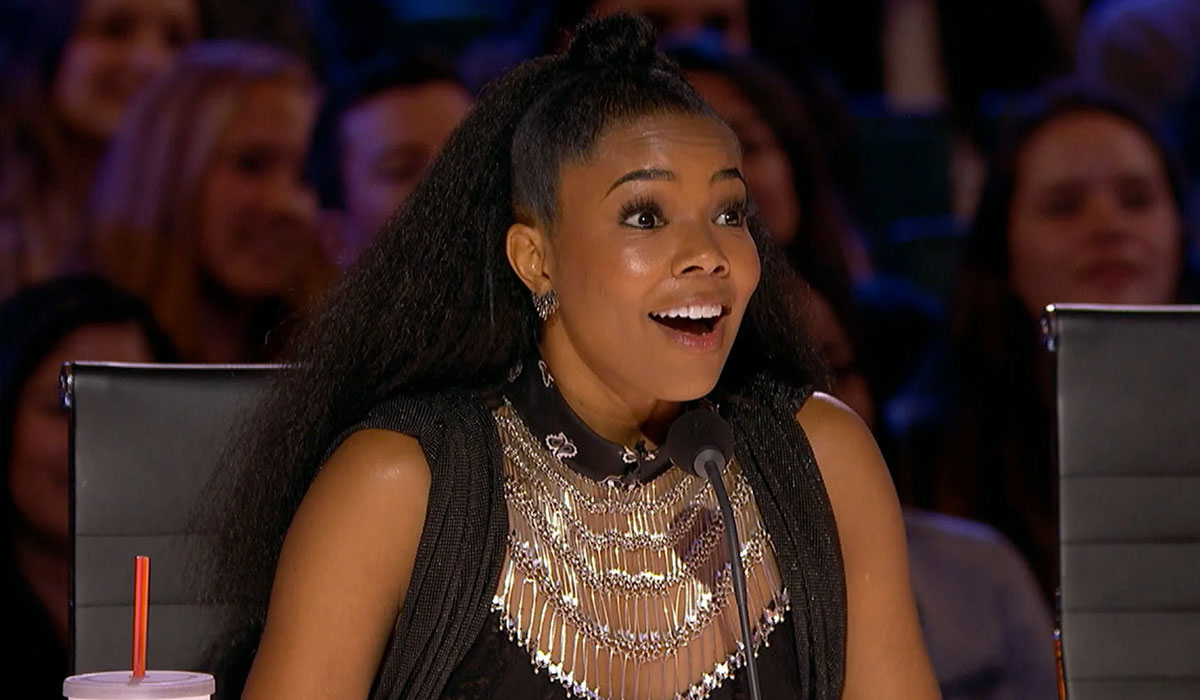 Amid reports that Gabrielle Union was fired from America's Got Talent after speaking out against "problematic" discrimination policies comes not-so-shocking information about notes she reportedly received from producers regarding her hairstyles.
Variety first reported that Union and Julianne Hough would both be not returning to the talent competition series, and Love B. Scott was the first to report that Union taking issue with NBC's "problematic" racism, sexism and more was the reasoning behind her being let go from the show.
"They only replace the women and blacks at Simon's whim," one insider told B. Scott.
Additionally, in a follow-up report, Variety revealed that Union and Hough both received "excessive notes on their physical appearance," including their hair, makeup and wardrobe, which reportedly led to tension between the hosts and production.
Insiders said staffers from the show complained more than half a dozen times about Union's hairstyles, saying that they were "too black" for the show's audience.
One NBC source, however, rebutted the notion that Union was the only one who received feedback about hair continuity during AGT Season 14, saying that Hough received notes as well.
While Union has declined to comment on the report, Hough—who has two shows in the works with NBC—denied the claims in a statement, saying: "I had a wonderful time on 'America's Got Talent,' I loved working with the cast, crew and producers."
Hough added: "I am happy to continue my working relationship with NBC. I'm looking forward to what the future holds."
Variety's report also says that Union was a witness to two "racially insensitive" incidents that bothered her and other AGT staffers.
One reportedly involved a recent guest appearance from late-night host Jay Leno, who allegedly made a racist joke about a portrait of Simon Cowell with his dogs, saying that the animals looked like something you could find "on the menu at a Korean restaurant."
The report notes that Union urged producers of the show to report the incident to HR, but they refused and simply cut Leno's comment before the segment aired.
The other alleged racially charged incident happened during an audition taping of the latest season when a white male contestant impersonating famous singers wore dark make-up on his hands while portraying Beyoncé.
Union and other staffers reportedly asked producers to remove the contestant from the show's lineup, but they didn't, and allowed the man to perform his racially insensitive act in front of a live audience, telling objectors they would "take it out later"—a common phrase among producers, sources said.
In response to Variety's report, NBC released the following statement:
"America's Got Talent has a long history of inclusivity and diversity in both our talent and the acts championed by the show. The judging and host lineup has been regularly refreshed over the years and that is one of the reasons for AGT's enduring popularity. NBC and the producers take any issues on set seriously."
America's Got Talent Season 14 was Union and Hough's first season as judges on the show, after replacing former judges Mel B and Heidi Klum.
Judges Simon Cowell and Howie Mandel, as well as host Terry Crews, are expected to return for Season 15.
Be the first to receive breaking news alerts and more stories like this by subscribing to our mailing list.