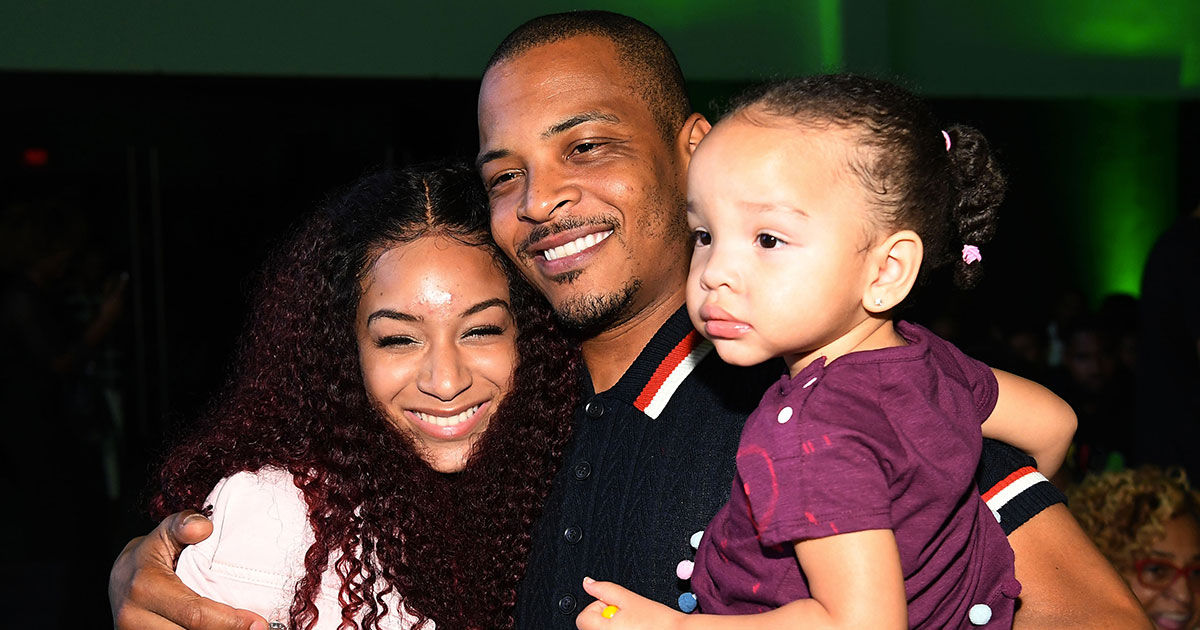 T.I.'s 18-year-old daughter, Deyjah Harris, is no longer following him on social media after he revealed to the world that he takes her on annual visits to the gynecologist to check her hymen to make sure she's still a virgin.
The 39-year-old rapper made headlines last week and sparked a huge debate on the effects of hyper-masculinity after making the disturbing comments on the Ladies Like Us podcast.
When asked if he'd had conversations with his daughters about sex, Tip replied:
"Deyjah's 18, just graduated high school now and she's attending her first year of college, figuring it out for herself … And yes, not only have we had the conversation, we have yearly trips to the gynecologist to check her hymen."
After going into vivid detail about one particular visit to the gyno after Deyjah's 16th birthday, T.I. proudly revealed: "I will say as of her 18th birthday, her hymen is still intact."
As the story went viral, Deyjah was seen liking tweets calling her dad's behavior "disgusting," "possessive" and "controlling," and now it looks like she's taken her displeasure with her father's comments even further by unfollowing him on Instagram and Twitter.
According to a screenshot posted by Hollywood Unlocked, Deyjah unfollowed her stepmom, Tiny Harris, and step-sister, Zonnique Pullins, on Instagram as well.
Deyjah has yet to publicly address T.I.'s remarks, however, based on her recent actions on social media, it's clear that she doesn't appreciate her dad putting their private family business out on front street and publicly embarrassing her in the process.
A number of celebs chimed in following T.I.'s comments, including the rapper's former Grand Hustle artist, Iggy Azalea, who, regarding a separate incident, previously called him a "huge misogynist" and said he's "never been able to have a conversation with any woman in which he doesn't speak like a fortune cookie."
In response to his hymen check comments, Iggy said: "Really I wish the women who interviewed him would have said something to him … He has serious control issues with women in all aspects of his life & needs therapy."
Wendy Williams said on her show that she was "mad at T.I." and would have felt "violated" if either one of her parents had performed hymen checks on her when she was young. She also slammed T.I. for not holding his 15-year-old son King to the same standards.
"I think the control he's having over on is very sexist," Williams continued. "Like, it's fine for the young boy but not for her … T.I., back off your daughter like that. I don't know what Tiny says about this, but there's nobody on social media who's agreeing with him."
Wendy also slammed the podcast hosts, Nazanin Mandi (wife of R&B singer Miguel) and Nadia Moham, for laughing at T.I.'s claims, as well as Deyjah's doctor for allowing the behavior.
For what it's worth, Mandi and Moham, deleted the podcast episode and released a statement via social media apologizing for their reaction to T.I.'s alarming comments.
"To everyone confused, angry and hurt by the recent episode of Ladies Like Us, we want to start off by saying that we sincerely apologize for our knee jerk reaction to the uncomfortable topic," their joint statement read. "We were completely caught off guard/shocked and looking back, we should have reacted much differently in the moment."
The statement continued: "The comments that were made and the reaction that followed are not in any way a reflection of our personal views on the topic. We support and love Women and feel that their bodies are theirs to do as they wish.
"There was absolutely no ill intent towards any party involved & [we] feel deeply awful about the entire incident. We are not perfect, take full accountability of our lack of action & are continuously learning along the way. We know an apology doesn't make this go away but we welcome the discussion—that's what our podcast is about."
Celebs weren't the only ones calling T.I. out either. Planned Parenthood said in a series of tweets:
"Idk who needs to hear this but virginity is a made-up social construct, and it has absolutely nothing to do with your hymen.

"Some people just naturally have hymens that are more open. And many other activities besides sex can stretch your hymen — like riding a bike, doing sports, or putting something in your vagina (like a tampon or finger). Once your hymen is stretched open, it can't grow back.

"Some people think you can tell if someone's had sex before if their hymen is stretched open. But that's not the case. Say it with us: YOU CAN'T TELL IF SOMEONE'S HAD SEX BY THE WAY THEIR HYMEN LOOKS OR FEELS
A virgin is someone who's never had sex. But "sex" means different things to different people, so "virginity" does too. Many don't care what it means or think it matters. Whatever you believe, the fact is you can't tell if someone's had sex by checking their hymen.

— Planned Parenthood (@PPFA) November 6, 2019
Many people think the hymen totally covers the opening of your vagina until it's stretched open, but that's not usually the case. Most hymens naturally have a hole big enough for period blood to come out and for you to use tampons comfortably.

— Planned Parenthood (@PPFA) November 6, 2019
Some people think you can tell if someone's had sex before if their hymen is stretched open. But that's not the case.

Say it with us:

YOU?CAN'T?TELL?IF?SOMEONE'S?HAD?SEX?BY?THE?WAY?THEIR?HYMEN?LOOKS?OR?FEELS

— Planned Parenthood (@PPFA) November 6, 2019
The World Health Organization called the practice, which the United Nations says needs to be banned, "a violation of the human rights of girls and women" and said it "has no scientific validity," adding that the so-called "two-finger" test can be "detrimental to women's and girls' physical, psychological and social well-being."
T.I. has yet to publicly comment on his remarks and has since gone radio silent on social media, however, he was recently spotted in Mexico with Tiny celebrating Monica and Toya Wright's birthdays.
Be the first to receive breaking news alerts and more stories like this by subscribing to our mailing list.