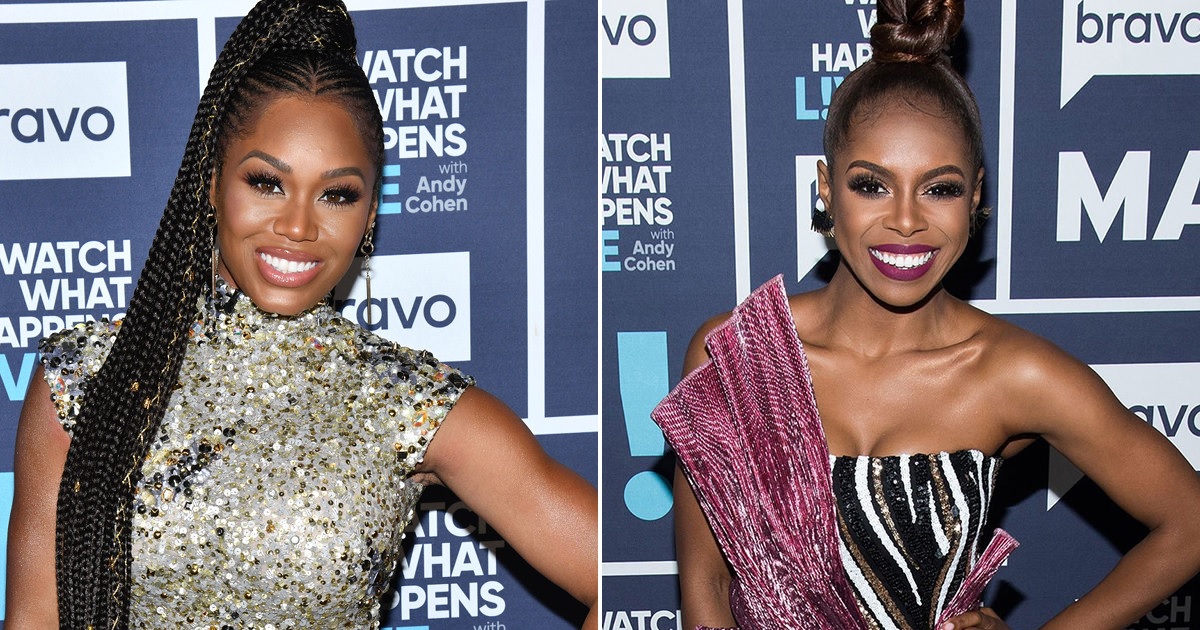 Monique Samuels is prepared to (legally) fight back after being summoned to court over a second-degree assault charge after a physical altercation with Candiace Dillard.
A source says the Real Housewives of Potomac stars got into a physical fight last month during a dinner party while filming for the show's fifth season.
During the altercation, Monique allegedly grabbed Candiace by her hair and pulled her down to the ground.
In a statement released on Monday (Nov. 11) via her lawyer A. Scott Bolden, Monique cited Candiace's previous belligerent behavior and claimed self-defense.
"Ms. Dillard has a public reputation for aggressive, belligerent and threatening behavior that has played out repeatedly on the Housewives of Potomac for millions of viewers to see for themselves. To be sure, my client did nothing but defend herself in the face of more very aggressive behavior by Ms. Dillard."
Last season, Candiace antagonized and eventually threw a butter knife at fellow co-star Ashley Darby during a heated confrontation. This is most likely the "belligerent and threatening behavior" referenced in Bolden's statement.
Although the incident with Monique reportedly occurred last month, Candiace filed the complaint last week in the District Court of Montgomery County in Maryland. The incident is classified as second-degree assault.
Monique has not officially been served the summons. However, court documents show Monique has been summoned to appear in court on December 23rd, and the judge will review the case at that time. If the judge sees probable cause, she could be arrested on the spot.
Bolden says they are weighing the option to file a counter criminal summons against Candiace.
"Going forward, we hope that Ms. Dillard seeks the help she needs to avoid creating these kinds of unsafe and unfortunate circumstances in and outside of the workplace," Bolden continued.
Candiace's attorney, James L. Walker, released a statement last week after the filing became public.
"At this time, we do not want to say too much and just allow the criminal process to play out. We only ask everyone to pray for our client Candiace and her family.

"The physical assault, humiliation and emotional distress have all been very painful and difficult for Candiace, as it would be for anyone attacked so viciously…We also pray that Monique will get some help."
Monique and Candiace have had close relationship on the show, but the friendship became strained last season.
Things came to a head when a pregnant Monique threatened to "drag" Candiace.
Candiace did tell Monique to drag her… ? #RHOP pic.twitter.com/GLPX7mmmti

— Joey (@OMFGRealityTV) November 10, 2019
The two hugged it out and seemingly made amends during the season 4 reunion.
"I do look at you like a little sister," Monique said while crying. "I want to move forward. I feel like a lot of what happened throughout this season was a lot of misunderstanding and us not communicating… I miss you."
Clearly, things have only gotten worse since.
The Real Housewives of Potomac is expected to return in the new year.
Be the first to receive breaking news alerts and more stories like this by subscribing to our mailing list.