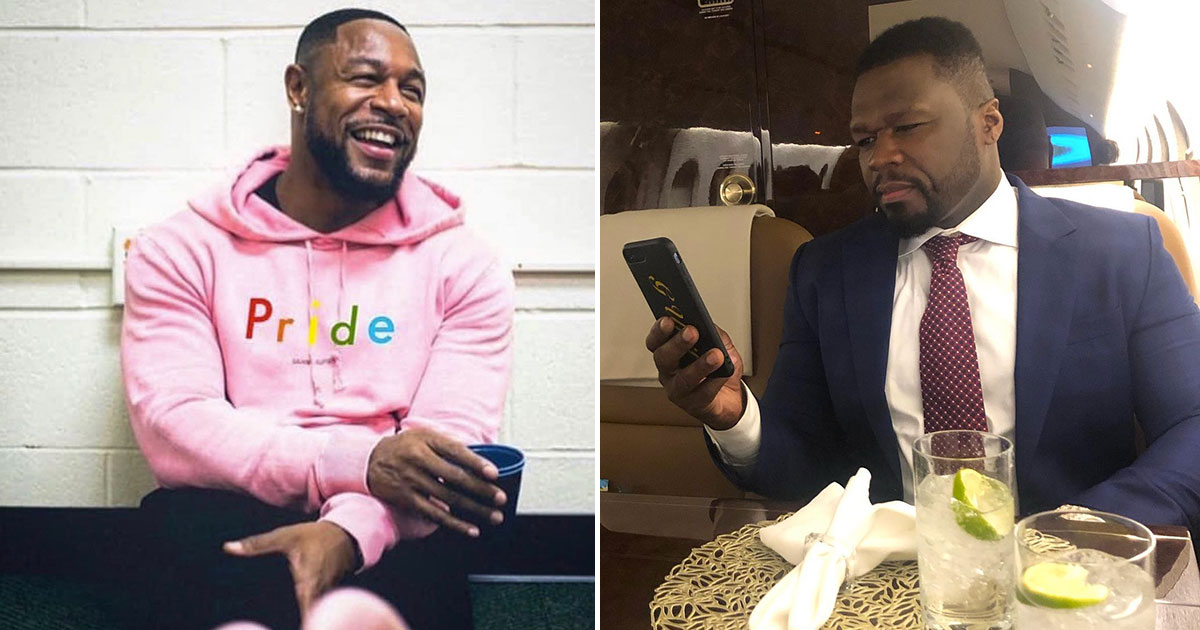 50 Cent isn't done roasting Tank over his comments regarding male sexuality.
Unless you've been living under a rock the past few weeks, you know Tank made headlines a couple of weeks back when he said on Angela Yee's Lip Service podcast that a man can perform oral sex on another man once or twice and still not be considered gay.
It all started when Angela Yee and her co-hosts were talking about lying boyfriends, and they said that if a person lies once that makes them a liar.
Tank disagreed, saying that just because a person lied once or twice, they shouldn't be considered a liar forever. "He's not a liar. He just lied twice," he said.
Angela and her co-hosts countered: "So, let's say a guy sucked a d*ck one time … Let's say twice … Does that make him gay?"
And in an extreme effort to play devil's advocate, Tank then tried to prove a point that performing a gay act doesn't necessarily make a person gay.
"He sucked a d**k once, right? Then, he's like I'm not sure if I liked it or not. Let me try it again, and then he says, 'You know what? It's not for me. Don't like the taste.' See what I'm saying? It doesn't mean he's gay. It means he sucked d*ck twice."
Needless to say, the R&B singer's comments went hella viral and he was the butt of many jokes for at least a week or two.
Of course, 50 Cent joined in on the fun at the time, taking to Instagram (his social media platform of choice) to share his views on the singer's eyebrow-raising comment.
"Old suga Tank … gay as a motherf**ker … nah he only sucked [eggplant emoji] twice," the rapper wrote along with a picture of the singer and a headline about his statement.
Now, two weeks later, Tank's thoughts on male sexuality are still on 50 Cent's mind.
The Power executive producer shared a new photo of Tank Wednesday (Nov. 6), this time showing him wearing a pink hoodie with the word "Pride" obviously photoshopped on the front.
Fiddy captioned the image:
"yo my man Suga Tank said you not gay if you suck [eggplant emoji] once or twice. what kinda sh*t is going on?"
https://www.instagram.com/p/B4i4sQQnKUB/
Tank caught wind of 50 Cent's post and clapped back at the rapper with the following comment:
"Make sure you get the #1 R&B album in the World Elevation! @50cent if you play my album you won't have to buy yo girl sh*t to f**k. Let me help you…"
Tank also seemingly responded to Fifty on his own Instagram page, writing alongside a recent photo of him from his tour with Fantasia:
"Unbothered because #1 isn't concerned with any other numbers.. Also unbothered cause I really look like this.. They don't!"
https://www.instagram.com/p/B4jITN2g_0v/
While most of 50's fans laughed at his comments towards Tank, some accused him of being homophobic.
However, 50 made it clear that he's not being homophobic. He wrote in response to a fan: "I'm just saying a straight man will never say no sh*t like that."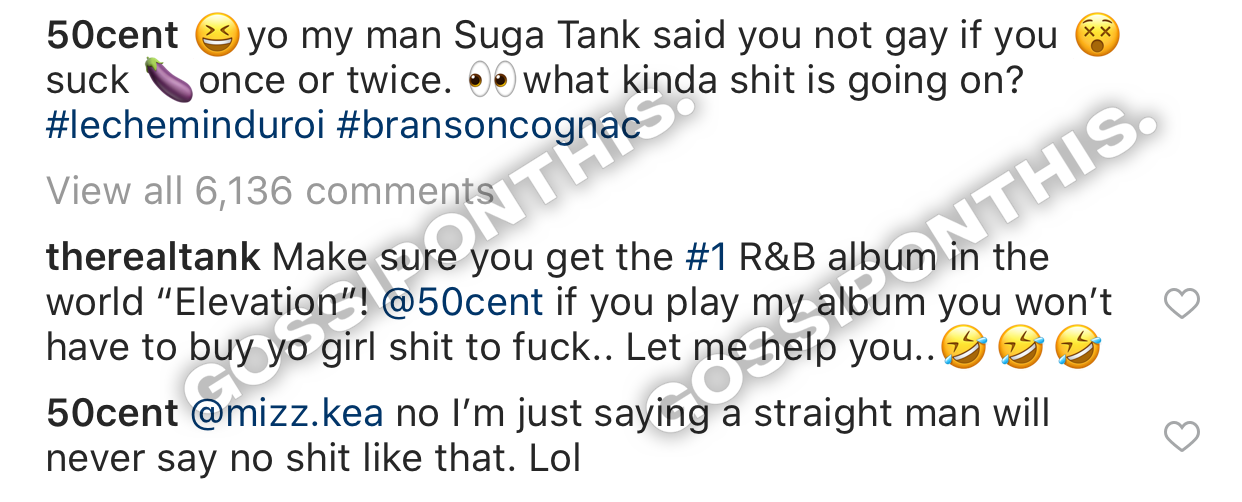 Be the first to receive breaking news alerts and more stories like this by subscribing to our mailing list.