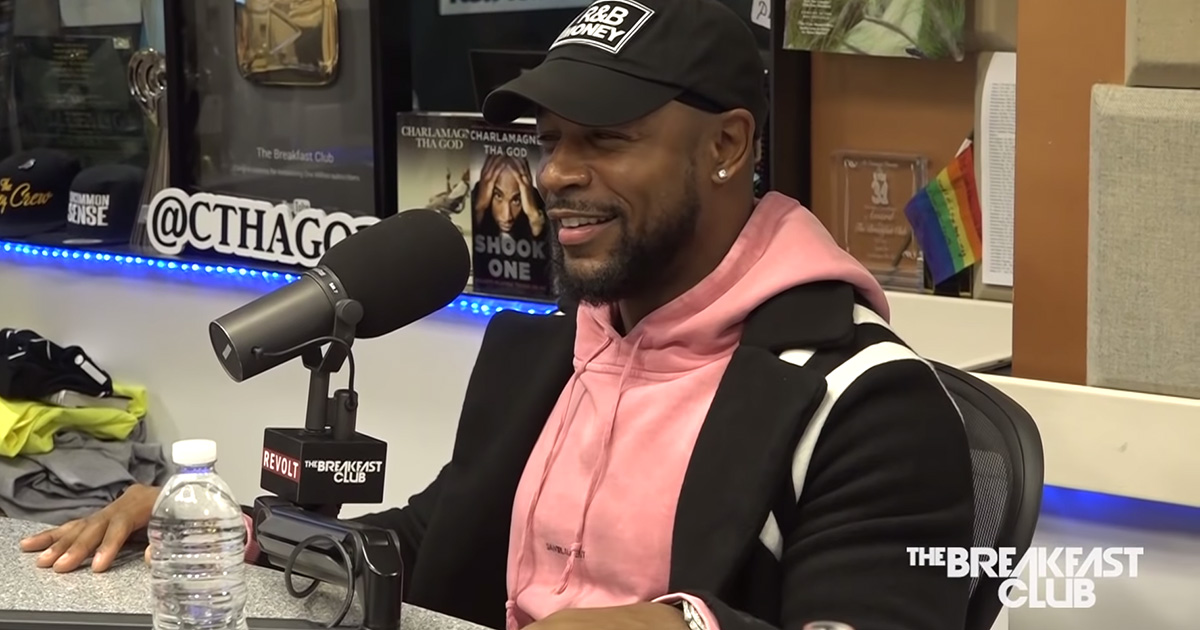 Tank has spent the past week or so defending himself against rumors regarding his sexuality after he made some eyebrow-raising comments in an interview on Angela Yee's Lip Service podcast.
While promoting his new album Elevation, which was released on Friday (Oct. 25), Tank discussed a number of topics, but the one that has garnered the biggest response was a brief comment he made about male-on-male oral sex in regards to whether or not performing the act makes someone gay.
It all started when Angela Yee and her co-hosts were talking about boyfriends who lie, and they said that if a person lies once that makes them a liar.
Tank disagreed, saying that just because a person lied once or twice, they shouldn't be considered a liar forever.
"He's not a liar. He just lied twice," Tank said. "I've done construction a couple times, but I'm not a construction worker," he added.
"So, let's say a guy sucked a d*ck one time," Angela countered, prompting Tank to utter "Jesus Christ" as he almost choked on his cup of water. "Let's say twice," Angela amended. "Does that make him gay?" one of Angela's co-hosts asked.
And in an extreme effort to play devil's advocate, Tank, after admitting that "twice is excessive," then tried to prove a point that doing a gay act doesn't necessarily make a person gay.
"He sucked a d**k once, right? Then, he's like I'm not sure if I liked it or not. Let me try it again, and then he says, 'You know what? It's not for me. Don't like the taste.'

"See what I'm saying? It doesn't mean he's gay. It means he sucked d*ck twice."
Tank continued the discussion on The Breakfast Club, and spent the first 10 minutes of the interview laughing off gay rumors and joking about the "backlash" he received from his comments about guy-on-guy fellatio.
"She did this!" he said jokingly, pointing directly at Angela Yee, who then explained how they came to talking about whether or not sucking d*ck twice makes a man gay.
Tank said he never intended for this to become a thing, to which Charlamagne asked: "Why didn't you stop it?"
"I don't know!" Tank exclaimed. "I just started talking! I am trying to defend my point! I was trying not to back down! It's four women against one man. I don't wanna lose!"
He added: "So, for the record … I don't know how many d*cks it takes! I don't know!"
Angela said the moral of the story to Tank should be that he should stop defending liars. He disagreed. "No, Angela! When we talking about some different sh*t, you gotta stop bringing up d*cks!"
The conversation then pivoted to homophobia and the double standards men can experience while exploring their sexuality, and Tank expressed his bewilderment over how this rarely, if ever, happens to women.
"There's an exploration process. And this speaks to the double standard," the R&B crooner said. "Women are allowed to explore and play and do all of these things and they don't get boxed into a thing. And I think for men, there's a scary thing as it pertains to being gay."
For what it's worth, Tank says that he is NOT gay. In fact, he's far from it.
"I've never had sex with a man," he said. "I've never planned on having sex with a man."
Watch Tank's Breakfast Club interview below:
Be the first to receive breaking news alerts and more stories like this by subscribing to our mailing list.