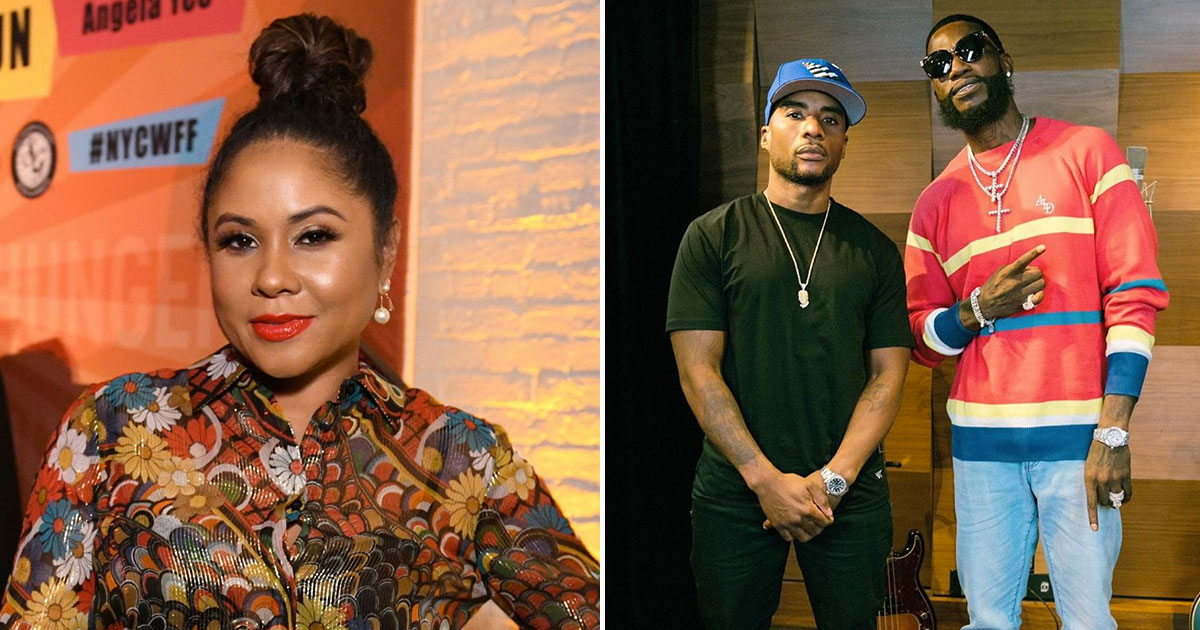 Is everything OK behind the scenes at The Breakfast Club?
According to social media sleuths, TBC co-hosts Angela Yee and Charlamagne Tha God unfollowed each other on Instagram following Charla's Gucci Mane interview in which the rapper called Yee a "punk-a** bitch" and threatened to "slap the sh*t out of" DJ Envy.
Earlier this month, Gucci said he was banned from The Breakfast Club following a 2016 appearance on the show, during which he claimed that Yee previously tried to have sex with him.
During that 2016 interview, Gucci said he and Yee "had history," that "she was on my d*ck" and also texted him to see what hotel he was staying at. Yee adamantly denied of that ever happening.
Fast forward three years, and Gucci brought the issue back up again by posting a clip on Instagram on October 3rd with the caption: "Wow! So you mean to tell me The breakfast club BANNED me 4 this? #TruthHurts #getoffmydick."
https://www.instagram.com/p/B3LUvuRFw47/
The very next day, Yee and Envy hosted their "Breakfast Club Court" segment and presented more receipts as evidence as readers called in acting as a jury to determine who was lying. (FYI: Gucci got the most votes, almost unanimously.)
On Monday (Oct. 21), Guwop raised the issue once again during a solo interview with Charlamagne (separate from his "Breakfast Club" co-hosts) when he accused "punk-ass bitch" Yee of banning him, while also calling Envy out for being a "p**sy."
"Envy's a p**sy, man. P**sy," he said shaking his head. "He's scared to come [to this interview]. You know he's scared. Where he at?" he inquired regarding Envy's whereabouts.
Gucci continued: "I got an issue with [Envy] now. I'm gonna step to him when I see him. I'm gonna confront him about what he and Angela did, and if he come at me wrong, I'm gonna slap the shit out of him. It ain't gonna be his first time getting slapped."
Unsurprisingly, the clip of him threatening to slap DJ Envy and calling Angela Yee a "punk-a** bitch" went viral on social media, and folks' offering their opinion on the situation actually made matters a lot worse.
https://www.instagram.com/p/B396k8cB505/
Someone posted on Twitter that Charlamagne and Angela Yee aren't friends, just co-workers, and Angela liked the post as an apparent co-sign.
Not long after, it was revealed that Angela had unfollowed Charlamagne on IG, and he apparently returned the favor by unfollowing her as well.
Charlamagne and DJ Envy are still following each other though, so there's that.
But for now, Charlamagne and Angela Yee are NOT friends … at least as far as Instagram is concerned.
Be the first to receive breaking news alerts and more stories like this by subscribing to our mailing list.