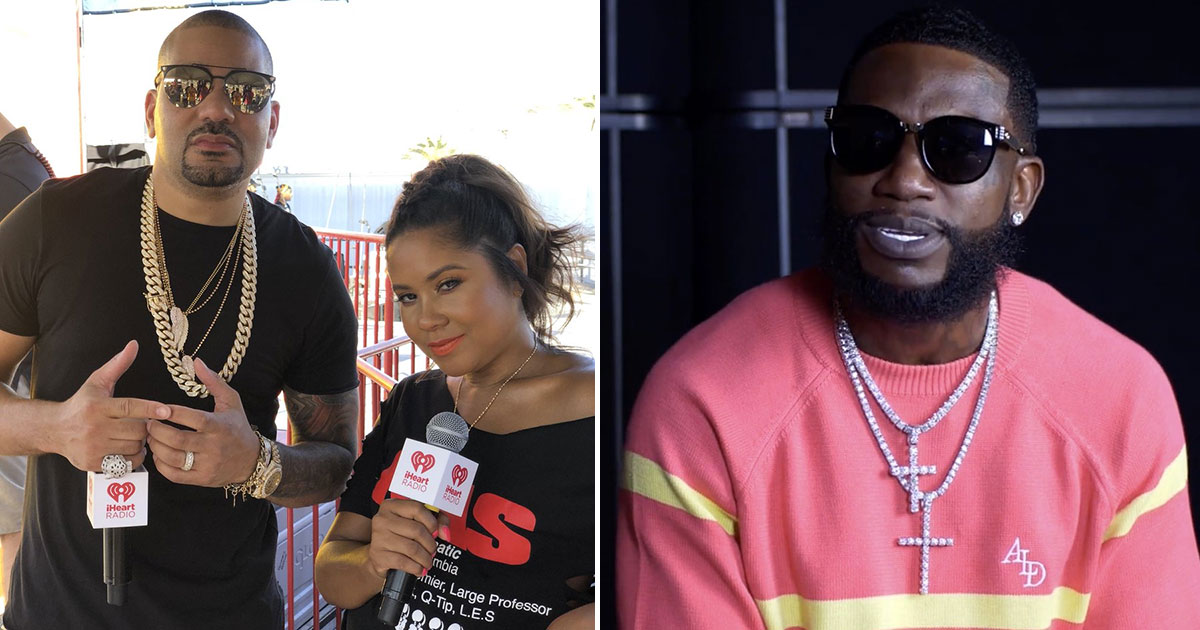 The old Gucci Mane temporarily resurfaced during a new interview with Charlamagne tha God when the Atlanta rapper fired shots at Charla's Breakfast Club co-hosts Angela Yee and DJ Envy, calling one a "punk-a** bitch" and threatening to "slap the sh*t out of" the other.
While promoting his newly released album Woptober II, Gucci sat down with Charlamagne for a nearly hour-long interview to discuss the project and a number of hot topics about his career, including his rumored ban from The Breakfast Club and his beef with Angela Yee and DJ Envy.
When Charlamagne told Gucci he didn't know where he got the idea that he'd been banned from The Breakfast Club, Guwop responded by saying that Angela and Envy were the ones who banned him.
"It came from that punk-a** bitch," the Atlanta rap legend said, referring to Yee.
"And DJ Envy. He's a pu**y too. Envy's pu**y, man. He's scared … The day they did that People's Court thing—he [Envy] was there. Him and the girl [Angela] or whatever. So he ain't have the nuts to come after he did that," Gucci added, in reference to Envy not being present for this interview.
Gucci continued: "I was gonna confront him too. I was gonna say, 'Hey man, you got something to say to me?' I just wanted to see what he was gonna say. 'Cause he seemed like he had something he wanted to say to me. So I was gonna give him his face-to-face, 'cause I didn't know me and him had no issues.
"But I do got an issue with him too. I got an issue with him now. I'm gonna step to him when I see him. Just like he stepped to them people [Desus and Mero] when they were talking about his wife … I'm gonna confront him about what he and Angela did, and if he come at me wrong, I'm gonna slap the shit out him. It ain't gonna be his first time getting slapped."
All of this stems back to 2016 when Gucci appeared on The Breakfast Club for what would be his last time. During that interview, Gucci claimed that Angela tried to have sex with him.
"She done tried," he said at the time. "She was on my d*ck back then." Yee denied Gucci's claims on-air, and that's apparently when the rumors started that Gucci was banned from the show.
Earlier this month, Yee and Envy brought the issue back up during their "Breakfast Club Court" segment, with Yee saying that Gucci was never banned from the show and reiterating that she doesn't have his personal phone number and never wanted to have sex with him.
Gucci, for his part, says Angela is lying.
"Don't ever act like you didn't try to do it. You did," he told Charlamagne. "She disrespected herself. She shouldn't have made a big deal out of something. Now she's embarrassed."
Watch the full interview below (the Yee/Envy discussion begins around the 54-minute mark).
Envy, who is on vacation in Paris, has since responded to Gucci and Charlamagne's interview with a lengthy Instagram post featuring an image of himself with his dog (which Gucci hilariously mentioned in the interview), while also reiterating his and Yee's claim that Guwop was never banned from The Breakfast Club.
Me and My Dog.. [crying laughing emojis]…

Welllllll… @cthagod gave me a heads up when this interview was done and I told him play it.. This isn't the 1st time I've been threatened by an artist and probably won't be the last time… I never been slapped, or snuffed or jumped before so not sure where that came from… but funny by all means…

@laflare1017 was never banned from the @breakfastclubam When asked, "Would I do an interview without Yee…" My reply was, "I will not do anything unless you clear it with my co-worker.. We call that riding for your team where I'm from!!!

And he's upset because my coworker defended herself… Never in a million years will I tell my co-hosts what to say or what not to say.. We share that platform..

When Gucci did that post about Yee, she defended herself on the Breakfast Club and he's mad because "I let her do it"…. I Have never ran from a Conversation in my life… My Kids are good, my wife is great and My Dog is excellent…

Anyway, I heard some lies and wanted to address it… Back to enjoying Paris…
Be the first to receive breaking news alerts and more stories like this by subscribing to our mailing list.