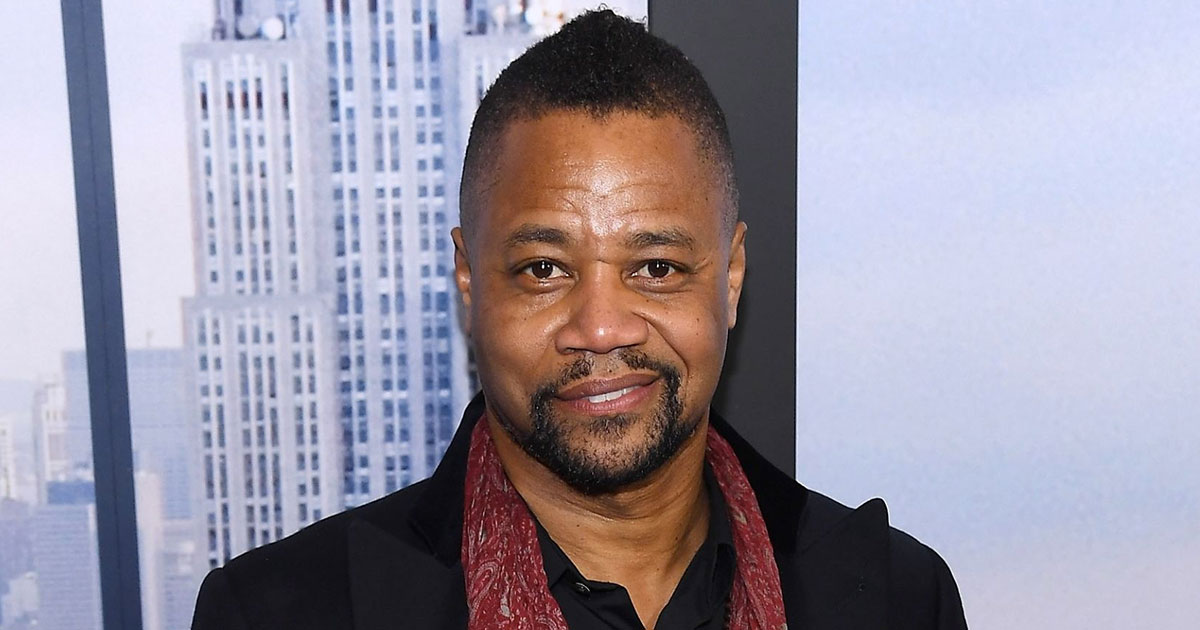 After 14 women accused Cuba Gooding Jr. of sexual misconduct, prosecutors revealed details of an alleged encounter between the actor and one of his victims.
In new court papers filed on Tuesday (Oct. 15), prosecutors said Gooding boldly asked a woman he'd never met before to sit on his face and urinate in his mouth.
According to the docs, the film star approached a female stranger at a bar in Los Angeles in February 2011 and grabbed her arm as she walked past him to go to the bathroom.
The papers say Gooding "then placed his hand inside the woman's blouse and squeezed her bare breast while he stated, in substance, 'Sit on my face, pee in my mouth."
After pushing Gooding away and telling him that he was "nasty," the woman claims the actor grabbed her arm a second time when she walked past him again.
The docs say when Gooding grabbed the woman's arm again, someone told him to leave her alone, and he said, once again: "I want her to sit on my face and pee in my mouth."
Prosecutors said this allegation is one of many against the actor dating back as far as 2011 and spanning across four states: New York, California, Texas and Mexico.
In 2013, Gooding allegedly grabbed a woman's butt and licked her neck without consent at the Chatwal Hotel in Manhattan.
The following year, at Cafe Havana in Malibu, California, the movie star walked up to a female stranger, reached under her skirt and touched her vagina over her underwear, court documents state.
Gooding appeared in court Tuesday after turning himself in to New York police to face a four-count indictment, including a forcible touching charge and a charge of sexual abuse in the third degree from a woman who said he pinched her buttocks without content at a Las Vegas nightclub in October 2018.
When the woman confronted him about it on the spot, she said Cuba told her he'd only pinched her on the back. She also claims the actor made a "sexually suggestive remark" to her earlier that same night.
The indictment also includes 12 allegations, however, Cuba's not being charged for those. Prosecutors just want to show a pattern of his bad behavior.
Among the 12 allegations includes one from a woman who says Cuba, while at a restaurant in Long Beach, California, squeezed her butt and told her "You've got a good piece of ass."
Another woman said back in 2006, the actor bit her shoulder a couple of times at a bar in Hollywood. She said he also humped her leg and tried to lift up her shirt.
The Oscar-winning Jerry Maguire actor pleaded not guilty to the charges and denies all of the allegations.
"This is a typical scenario in which random people come out of the woodwork to accuse a celebrity who has already been charged," Gooding's attorney, Mark Heller, said in response to women's claims.
"They have no credibility because Cuba was not charged with any of those allegations."
Gooding's legal woes began earlier this year after he was accused of groping an unidentified woman on June 9th at the Magic Hour Rooftop Bar and Lounge atop the Moxy NYC Times Square Hotel.
Grainy surveillance footage from the night in question appears to show Cuba reaching over his girlfriend and touching the woman's chest area.
However, Cuba and his people are adamant that he touched her hand and NOT her breasts.
For what it's worth, Cuba's girlfriend, Claudine De Niro (the estranged wife of Robert De Niro's son) backs his account of the incident.
Prosecutors have asked the courts to allow the new accusations to be considered at trial.
"Defendant's past behavior shows that he routinely approaches women while at bars or nightclubs with whom he has had limited or no prior interaction, and touches them inappropriately," prosecutors argued in court documents.
"Looking at these instances, it is clear that the defendant's actions are intentional, rather than accidental, that he does not mistakenly believe the acts are consensual."
Be the first to receive breaking news alerts and more stories like this by subscribing to our mailing list.