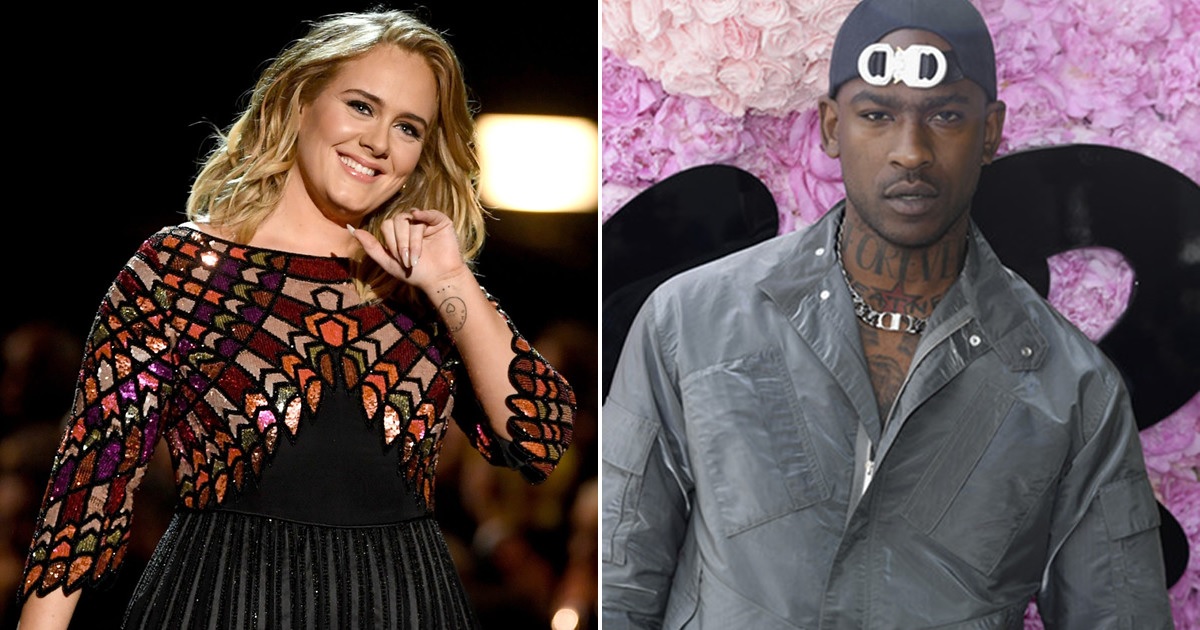 Newly single Adele apparently had a craving for some chocolate. The singer has a new boo and we can honestly say we did not see this one coming.
According to UK publication, The Sun, Adele is rumored to be dating British rapper Skepta.
Nothing is official, but friends of the musicians believe that things are heating up pretty quickly. The two have been friends for a few years and have recently gone on several dates.
Adele, 31, celebrated Skepta's 37th birthday with him at the Crystal Maze Experience in London a few weeks ago.
A source tells The Sun Adele and Skepta have a "close bond" and a "special connection."
The source revealed:
"Adele and Skepta have been there for each other a lot after both their relationships split up. They have a close bond and there's definitely a special connection.

"They're spending more and more time together. Some of their friends are hoping and predicting they could end up being a great couple one day."
Twitter was definitely surprised to learn about the unexpected rumored couple and had several jokes.
Who said this is adele and skepta????????? pic.twitter.com/QstC1O78HM

— . (@notfarheenrob) September 30, 2019
Adele after a few months of dating skepta pic.twitter.com/JeoVEZr4U5

— ? (@ashomrr) October 1, 2019
ADELE AND SKEPTA?!!! I would've never predicted that pic.twitter.com/MXbt62td1j

— Confessionsofa.shygirl1@gmail.com (@hannuizm) October 1, 2019
Lord Skepta and Adele finna have bomb ass sex.

— Slutty Lettuce (@Skinnychowder) October 1, 2019
Skepta and Adele next summer pic.twitter.com/aKoV3jfpB3

— YouTube: Shirtless Plantain Show (@Nigerianscamsss) October 1, 2019
Me after finding out Skepta and Adele are dating: https://t.co/jEcBze2fyg

— Simmo (@joshsims1998) October 1, 2019
adele after a year w skepta pic.twitter.com/IOpZ3Inu2U

— boogie (@halalszn) October 1, 2019
Adele the first time she tasted Skepta's Black Dpic.twitter.com/TmjCehxCDM

— Pastor Clinton? (@Pastor_CVB) October 1, 2019
However, Adele and Skepta actually have more in common than we may think. They each grew up in the same London district, Tottenham.
And they each have one child. Adele has a 6-year-old son and Skepta became a father last year.
"They are both private about their love lives and they are both committed to their children first and foremost as well," The Sun's source added.
Skepta's friendship with Adele dates back to at least 2016.
"Adele texts me all the time and keeps me in check. She speaks to me about how things are going," he said in an interview of that year with ES Magazine.
A few months later, he revealed that a social media shout out from his Tottenham sister inspired him to continue with music.
"She gassed me up. One day I was just chilling and she [tweeted] a picture that said 'Tottenham boy'…I was actually going to quit music that day, that was one of the sickest things ever. She's like the lady of Tottenham."
Adele—who keeps her personal/love life private—officially filed for divorce from philanthropist Simon Konecki earlier this month. The couple split back in April after a seven-year relationship.
Skepta previously dated Naomi Campbell.
Be the first to receive breaking news alerts and more stories like this by subscribing to our mailing list.