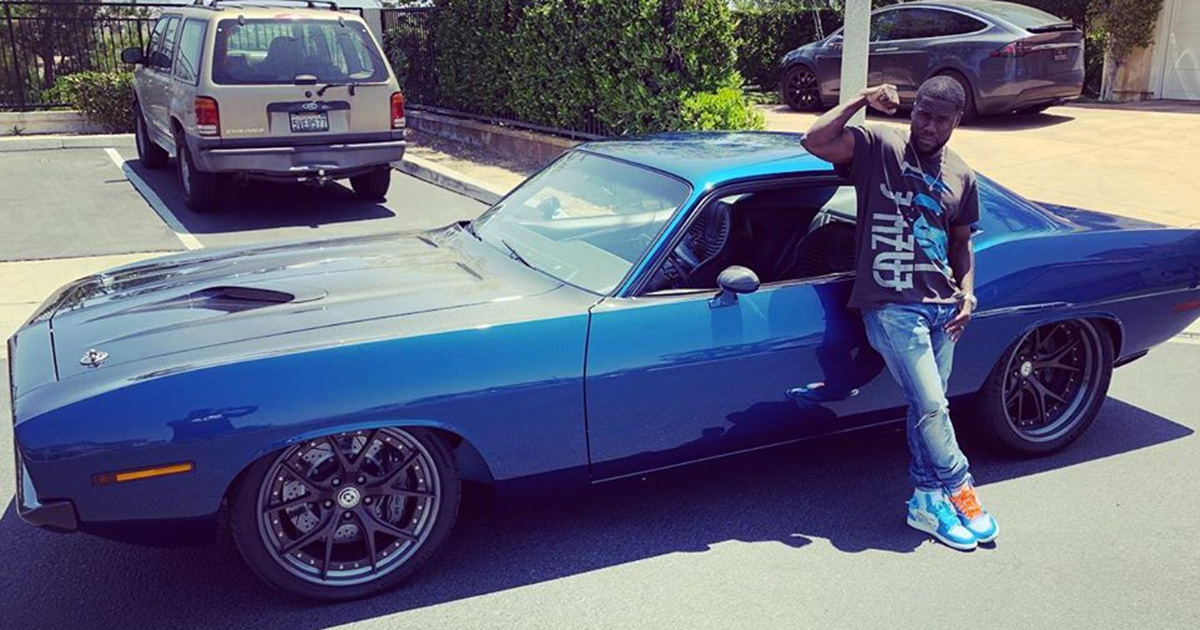 Kevin Hart is recovering after a successful back surgery following a serious car accident in Malibu Hills Sunday.
According to The Blast, sources close to Kevin say the comedian went under the knife Sunday night and "the surgery went smoothly, and he is doing ok."
"The surgery was a complete success. The doctors completed a procedure to stabilize his back," a source told the website.
Kevin's wife, Eniko, has reportedly been by his side at the hospital, and Kevin is said to be already up walking around and talking to family and doctors.
Insiders said the comedian is "feeling as good is to be expected right after surgery" and he's "expected to make a full recovery."
As was previously reported, Hart was riding as a passenger in his newly purchased Plymouth Barracuda when the vehicle went into a ditch in Malibu around 1 a.m. early Sunday morning (Sep. 1).
Police said Hart and two other people were trapped in the car and had to be rescued. Kevin and the driver—Heart's friend, Jared Black—both reportedly suffered "major back injuries."
Jared was reportedly airlifted to UCLA Medical Center and is surrounded by friends and family as he also recovers.
Despite being badly injured in the accident, sources close to Hart say he didn't injure his spinal cord and he's able to "walk and move his extremities."
The other passenger in the car was Black's girlfriend, celebrity trainer Rebecca Broxterman, who was pinned in the backseat, but was able to be pulled from the wreckage without any significant injuries.
Kevin had just bought the car—an electric blue 1970 Plymouth Barracuda—as a gift to himself for his 40th birthday back in July.
"Added some more muscle to the family for my 40th," he wrote on Instagram on July 8th. "Welcome home 'Menace'"
Meanwhile, Kevin's celebrity friends have been sending him lots of love and positive energy while he recovers following the car crash that could have claimed his life.
"Stop messing with my emotions brother @kevinhart4real. We have a lot more laughing to do together," Dwayne 'The Rock' Johnson shared on Instagram Sunday along with a photo from their movie Jumanji: Welcome to the Jungle. "Love you man. Stay strong."
Hart's The Upside costar Bryan Cranston also sent his buddy some well wishes on IG.
"I've just heard that @kevinhart4real was injured today in a car accident in Los Angeles," Cranston wrote. "Let's all send him positive energy and healing thoughts. He's a good human. Get well soon, brother."
Other celebs who have sent their regards to Kevin include Diddy, Terry Crews, Marlon Wayans, T.I., Niecy Nash, Jamie Foxx and many more.
"Aight now Hurry up & Shake tf back ASAP big bro so we can laugh about this sh*t," T.I. wrote on Instagram. "It's a lotta love & genuine respect out here for you. You mean so much to so many!!! My family's thoughts and prayers are with you & all of yours!!!!"
Get well soon, brother ????

Kevin Hart Hospitalized After Serious Car Accident | Hollywood Reporter https://t.co/aLtKyjQQUi

— terry crews (@terrycrews) September 1, 2019
Sending one out to @KevinHart4real. May your spine be fine. May your back cut you slack. May your neck not be a wreck. And may the Lord protect your cord. Love you. pic.twitter.com/4eGYJzfym4

— George Wallace (@MrGeorgeWallace) September 2, 2019
Prayers up @KevinHart4real ??

— Mindy Kaling (@mindykaling) September 2, 2019
I am praying for my friend @KevinHart4real ??

Please join me. https://t.co/TeTy0m2rns

— yvette nicole brown (@YNB) September 2, 2019