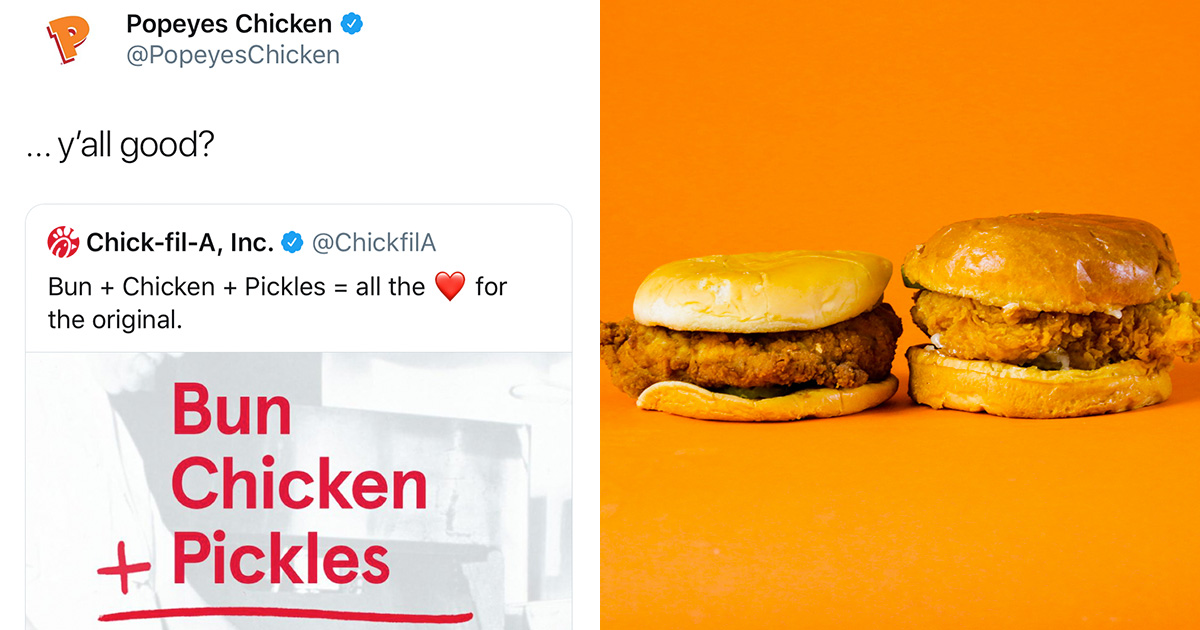 Chick-fil-A and Popeyes traded quick jabs on social media Monday (Aug. 19) over who has the best chicken sandwich.
Of course, Chick-fil-A says they invented the chicken sandwich, but Popeyes recently added a chicken sandwich to its menu, which has been met with some pretty favorable reviews.
Damon Young from The Root's Very Smart Brothas said: "Popeyes has the best fast food fried chicken sandwich and it ain't even close."
Kevin Pang of The Takeout opined: "The rumors are true: Popeyes' fried chicken sandwich is better than Chick-fil-A's."
Business Insider's Irene Jiang wrote: "Popeyes' new chicken sandwich convinced us that we never need to go back to Chick-fil-A."
People on Twitter also have been raving about Popeyes' new sandwich:
You know the Popeyes chicken sandwich is so good when you start questioning if it's…too good? pic.twitter.com/4iyLoH81jN

— Kazeem Famuyide ? (@RealLifeKaz) August 19, 2019
Chic-fil-A workers getting the Popeyes chicken sandwich for lunch pic.twitter.com/0cjkv7UcRJ

— Celai West (@celaiwest1) August 19, 2019
Me eating a ch*ck-fil-a sandwich after I've tried the promise land of the Popeyes chicken sandwich pic.twitter.com/anOq8ufQQH

— popeyes brand ambassador (@SinfulLightskin) August 19, 2019
Dis Popeyes sandwich da government, shit aine got no business bein dis tasty??

— Yeni? (@BYENDVNE) August 18, 2019
Me walking past Chik Fil A to go to Popeyes in the food court for their chicken sandwich: pic.twitter.com/ZTsCrlUpu9

— Ashlee with 2 E's ? (@ashleeonair) August 19, 2019
Is this everyone's response to Popeyes new chicken sandwich? pic.twitter.com/zHeMiwnwY3

— Divinity ?? (@Divine_Vonz) August 18, 2019
If i get smoked cremate me and drizzle my ashes in some Popeyes seasoning. Then make me into a Spicy Chicken Sandwich so my niggas can send me out the right way.

— Harvin Marrison ? (@Kombat___) August 18, 2019
So, as you can imagine, Chick-fil-A ain't too happy about all the newfound Popeyes chicken sandwich hype, and has apparently responded via social media.
"Bun + Chicken + Pickles = all the [heart emoji] for the original," Chick-fil-A tweeted.
Bun + Chicken + Pickles = all the ?? for the original. pic.twitter.com/qBAIIxZx5v

— Chick-fil-A, Inc. (@ChickfilA) August 19, 2019
Many took the message as a subtweet about Popeyes, considering the fact that everyone has been comparing chicken sandwiches from both restaurants all month.
Not long after Chick-fil-A's tweet, Popeyes fired back with a quote-tweet saying: "… y'all good?"
… y'all good? https://t.co/lPaTFXfnyP

— Popeyes Chicken (@PopeyesChicken) August 19, 2019
Looks like the year's biggest beef is going to end up being between two chicken restaurants. Go figure.
Have you tried Popeyes new chicken sandwich yet? Is it really all that? Let us know below in the comments!
Be the first to receive breaking news alerts and more stories like this by subscribing to our mailing list.