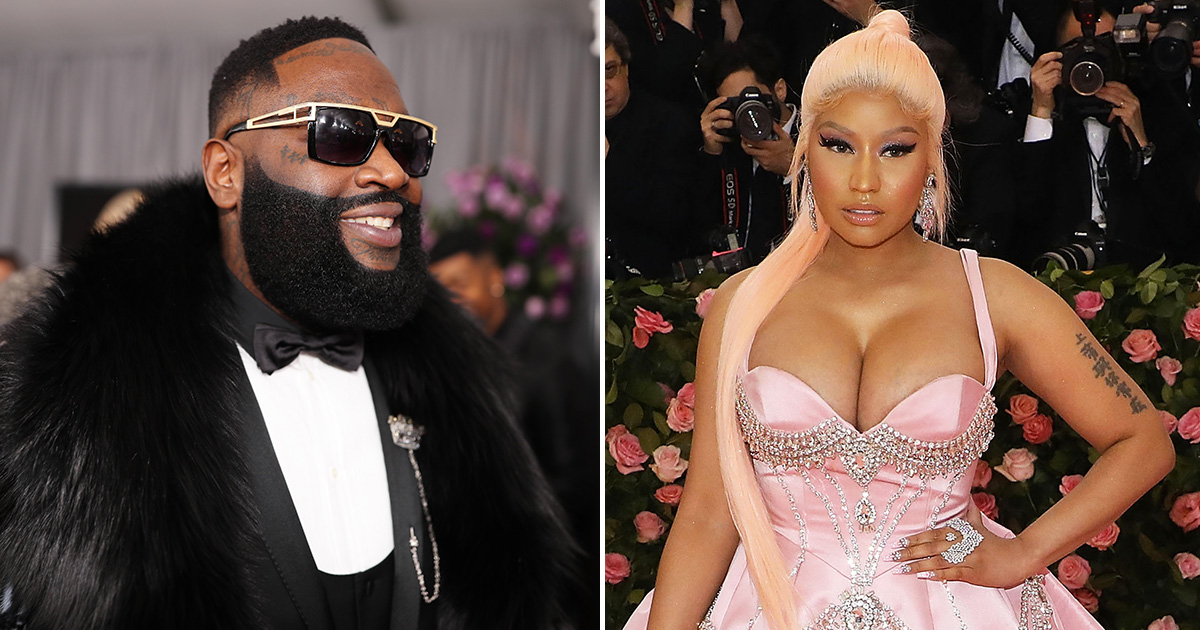 Rick Ross had nothing but nice things to say about Nicki Minaj in a recent interview, even though she recently told him to sit his "fat ass down" in response to him dissing her on a track years ago.
Back in 2017, after Nicki and Meek Mill had broken up, Ross briefly weighed in on the situation on a song called "Apple of My Eye."
"I told Meek I wouldn't trust Nicki," he rapped. "Instead of beefin' with your dog, you just give 'em some distance."
It's taken Nicki two years to respond to the perceived diss, but when she finally offered her opinion on Ross' line, she went all the way in.
During an appearance on The Joe Budden Podcast Tuesday (Aug. 13), following her and Joe's explosive showdown on Queen Radio the day prior, Nicki addressed Ross directly, and didn't hold back one bit.
"When a grown-ass f**king man name-drops a woman to sell an album, when I was the only one in his corner when everyone turned their back on them, when everyone was calling them 'Twitter-fingers' and cracking up laughing at them? My n***a!" Nicki vented.
"I went and sat down in a meeting with Obama, President Obama, and Ross was there," she revealed. "He texted dude after the meeting and said, 'Yo, this chick is a keeper.' I saw the text myself with my own eyes. 'This chick is a keeper. She went in a room full of rappers and spoke to Obama and the first thing out of her mouth was about you and figuring out your probation situation and why you're still on probation after all these years.'"
Nicki said Ross texted Meek after the meeting with President Obama and called her a "keeper." So, imagine Nicki's surprise when Ross dissed her on a track once things went sour between her and Meek.
"[He] texted dude after the meeting and said, 'Yo, this chick is a keeper.' I saw the text myself with my own eyes," she said.
"And then you come out on an album, when it's time to sell some weak-ass f**kin' album, and try to disrespect Nicki Minaj? What? And now you try to disrespect 50? Try to hope 50 would respond to your nonsense this time? Boy, sit your fat ass down."
Of course, Ross' arch-nemesis 50 Cent chimed in, writing on Instagram: "Nicki be blacking out on these n***as. LOL"
And Rick Ross didn't mind offering his own response either.
While on the promo trail for his new album Port of Miami 2, Ross dropped by The Breakfast Club Thursday morning (Aug. 15) and was asked by co-hosts DJ Envy and Charlamagne Tha God what he thought about Nicki's belated response to his line about her.
"I mean, if somebody went to meet Obama with you, she is a keeper until you find out otherwise," Ross said. "She was around me a few times but other than that, she was a huge talent but she was playing a very important position at the time.
"She was in between Meek and Drake at the time. And what she don't know, and what she might not understand coming from a big homie like myself, playing that position, that was a very fragile role."
The "Money in the Grave" rapper continued: "And it would be very easy to put that responsibility on her. But that ain't what I tried to make it to. But most definitely when I seen it go sour, it would be easy to assume she may have had something to do with that and if somebody tells you they didn't, they're lying."
"But everybody moved forward," Rozay concluded. "She moved forward, she doing her thing. I'm happy to see her do that. Meek doing his thing. Drizzy, they doing they thing."
Be the first to receive breaking news alerts and more stories like this by subscribing to our mailing list.