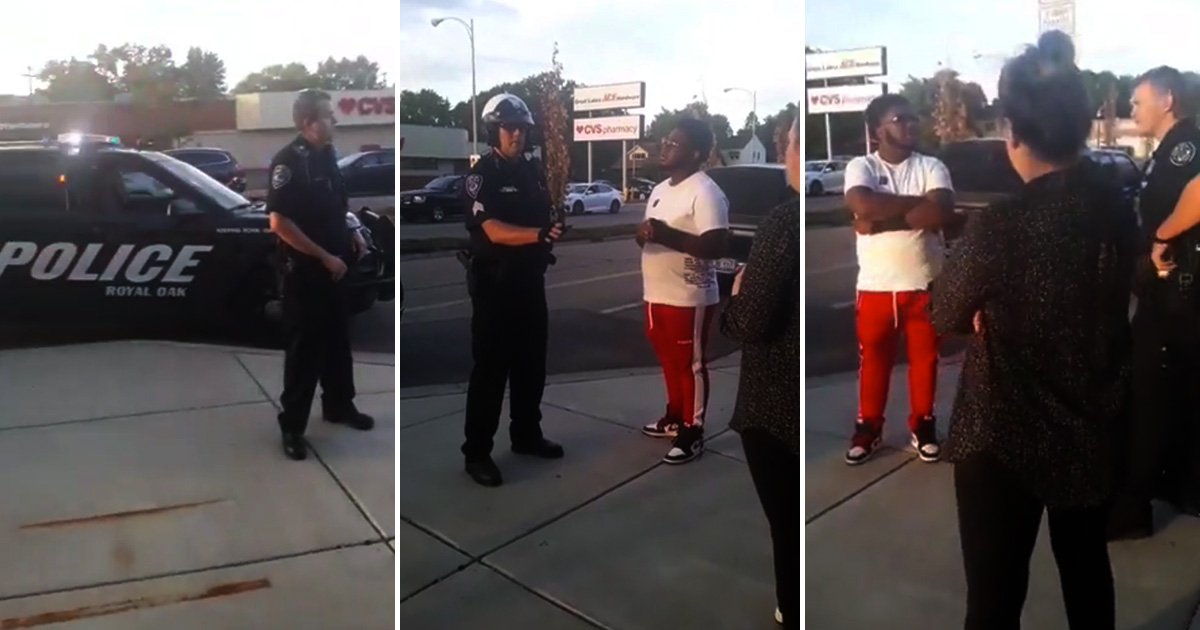 A Facebook live stream showing the moment police officers in Royal Oak, Michigan stopped a Black man to question him for "looking suspiciously" at a white woman has gone viral on social media.
We're sure you know the story by now without even knowing the story. A Black person is minding their own damn business, while a white person not minding their own damn business is "suspicious" of the Black person, and proceeds to dial 911.
This particular video shows a number of police officers questioning 20-year-old Devin Meyers and refusing to let him go all because a white woman was frightened by his presence. Another sad example of #ExistingWhileBlack.
Fortunately for Meyers, Kimiko Adolph (the woman behind the camera), was there and captured the whole ordeal while also being a pillar of support of the young man who was surrounded by cops.
Shout out to this black woman, Kimiko Adolph who recorded this, stood by him, possibly saved his life.

A complete queen and a heroine. pic.twitter.com/NtNN32QlUW

— StanceGrounded (@_SJPeace_) August 14, 2019
Via The Daily Dot:
"He has been pulled over walking to go to eat for suspicion of being Black and looking at the Caucasian woman," Adolph says, as she points her phone toward the officers. "They got him surrounded. So I'm not going to leave the brother out here."

Adolph told the Daily Dot that she was on her way to a nearby CVS but chose to stop and intervene after seeing Myers surrounded by the cops.

"I have three black sons, and he was by himself, surrounded for no reason," she said. "Nobody was filming, and I knew I had to."

Adolph joined Inn Season Cafe manager Erin Frey to defend the young man.

Even though it is hard to decipher everything Meyers says to the police in the video, he can clearly be heard explaining that he was on his way to meet his girlfriend at the cafe when they stopped him based on a report that he looked "suspicious." He also says that the police would have certainly let him go had he been white.

"So if someone calls about someone, we're not supposed to respond?" one of the officers questions.

Meyers explained that there is nothing inherently wrong with police responding to the call, but they should have recognized that he did not pose a threat and simply kept it moving.

"I'm pretty sure if she would've done the same thing," Meyers said of Frey, who is a white woman, "you would've let her go 10 minutes ago."

Instead, Meyers was held and questioned for 30 minutes until finally being let go.

"She called because he is a Black guy," Frey said to the police after Meyers walks away. "If that were me walking across the street and walking in, this would not be happening."

On social media, many denounced the police's actions and heralded both Adolph and Frey for stepping in.

"Shout out to this Black woman, Kimiko Adolph who recorded this, stood by him, possibly saved his life. A complete queen and a heroine," one Twitter user wrote.

"I'm just glad it ended as it should have," Adolph said.
If only Emmett Till had been so lucky.
Be the first to receive breaking news alerts and more stories like this by subscribing to our mailing list.