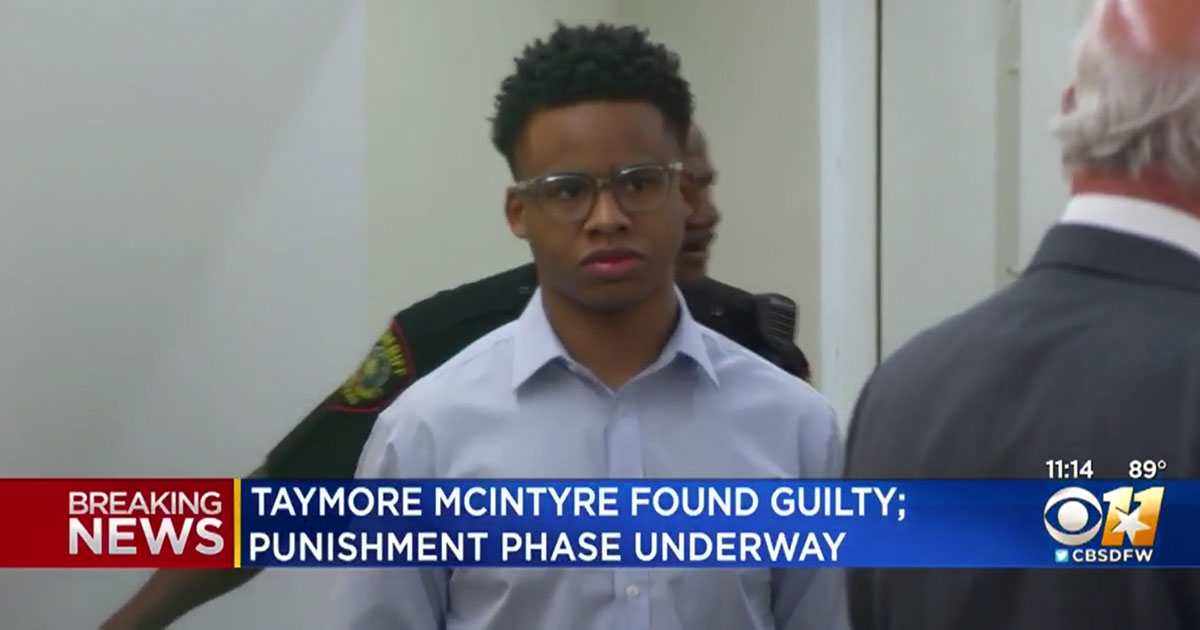 Rapper Tay-K could possibly spend the rest of his life in prison after being found guilty of murder by a North Texas jury Friday morning (Jul. 19).
The 19-year-old, whose real name is Taymor McIntyre, was on trial for a 2016 home invasion that resulted in the murder of a 21-year-old father named Ethan Walker.
Walker, a father-of-one, was shot in the stomach after he told McIntyre and a group of other robbers that he didn't have any drugs or money.
Prosecutors said it was a 15-year-old girl who actually planned the home invasion robbery, and earlier this week, one of her friends testified that she contacted McIntyre on Instagram asking him to help her get guns for the robbery.
McIntyre responded to her DM, saying that he didn't have a gun but his friends did and he knew one who was "trigger happy."
According to the testimony from Megan Holt, McIntyre recruited three of his friends—Latharian Merrit, Sean Robinson and Jalen Bell—for the robbery.
Holt said Merrit had a .40-caliber Glock with an extended clip on it when he arrived at the apartment for the robbery, while Sean Robinson had a .38-caliber gun and Jalen Bell was armed with brass knuckles.
As for McIntyre, Holt said: "He was kind of scared. He wanted ot make sure that his friends had his back if something was to go wrong because he was walking in there unarmed. Scared isn't the right word. Maybe a little nervous. Unsure."
Because McIntyre wasn't the one who fired the weapon, his attorneys argued that he should be found not guilty, however, prosecutors said McIntyre was complicit in the crime, and knew the robbery would end up with someone being shot.
The young rapper—who gained notoriety when he went on the run after the murder and recorded a song and video about fleeing from police—pleaded guilty to two counts of aggravated robbery by threats in the robbery of Walker's girlfriend and another man who was present in the home in Mansfield at the time of the incident.
He pleaded not guilty to capital murder and a separate count of aggravated robbery in connection to the robbery and shooting of Ethan Walker's roommate Zachary Beloate, who was shot in the shoulder, but survived.
For Walker's murder, McIntyre faces between five and 99 years in prison, CBS DFW reports.
Be the first to receive breaking news alerts and more stories like this by subscribing to our mailing list.