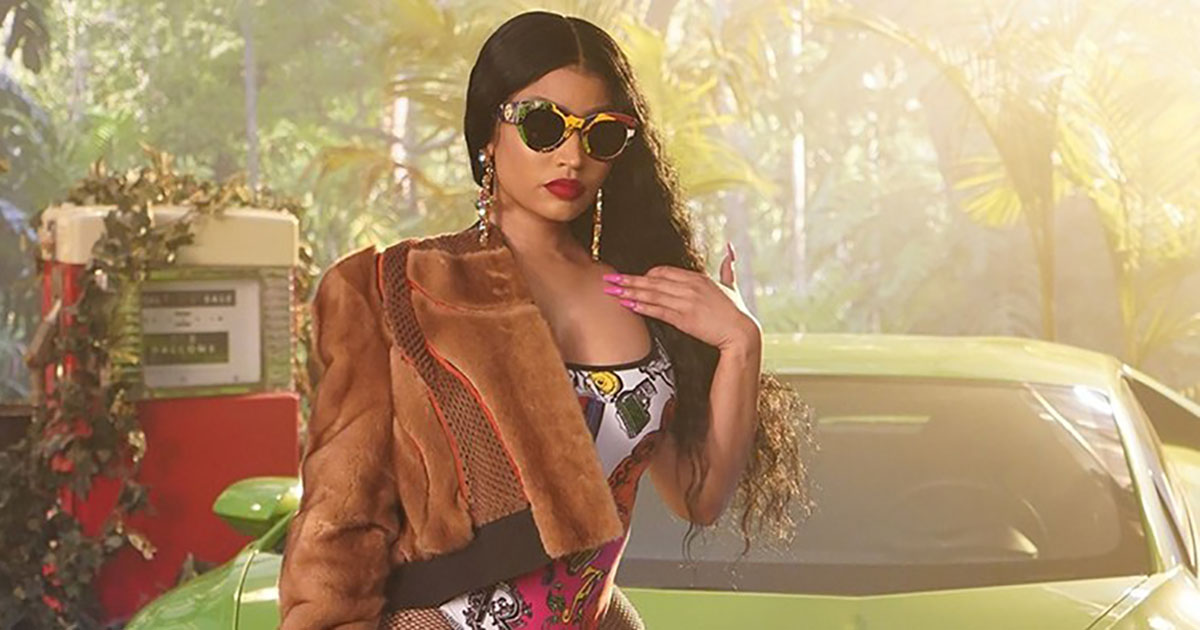 After a nearly 10-year reign as the dominant female rapper, Nicki Minaj's throne has come under serious assault.
The heaviest hitter to knock Nicki off her pedestal is undoubtedly Cardi B, who Nicki was friendly with at one point.
Remy Ma, who used to also call Nicki a friend, came at Onika lyrically and arguably won their rap beef last year, but Remy couldn't see Nicki commercially when it came to racking up hits and bags.
After her Queen album was met with a mild reception (it only went 1X Platinum), Nicki went into hiding for a bit as she believed the entire world was out to get her and boost Cardi in her place.
But on the 12-year-anniversary of the release of her Playtime Is Over mixtape, Nicki is roaring like a dungeon dragon again as she unleashed and let her fans and the world know that she is here to stay.
After pointing out, once again, that she writes her own material and built her own success, she pointed out that unlike some of these OTHER new girls, she always gave her predecessors their appropriate props.
12 years ago I dropped my 1st mixtape. Wrote every single word on every single song. I was so proud of that. Eventually the barbz were all wearing pink hair, Chinese bangs, & Barbie chains. Colorful wigs came all the way back in style. Everyone became Barbies & Dolls.

I always shouted out my influences in my interviews. Now a days, it's become cool to pretend u weren't influenced by other artists. S/O to the ones big enough to do it: Kash, Asian, Cuban, Saweetie, Meg, Malibu, YOUNG MA, Ms. Banks, Lady Leshurr, etc.

No female rapper (other than Trina) did a song w/me or congratulated me on my billboard accomplishments. I didn't mind. I never felt they were obligated to do so. Just like Beyoncé isn't obligated to congratulate or collaborate with Normani, etc.

I never had a crusade by radio stations, influencers & blogs to make my song number 1 when Anaconda was #2 on the Hot 100. I never had a group of men in the studio writing my songs for me so it took a while between albums.

Please stop these write ups about what I didn't do. Y'all are rlly sick & ima call y'all out one by one on Queen Radio. Most of yall doing these write ups have never fought for anything in life. You just sit on the sidelines & watch the doers do!!!!

To my fans; I love, cherish you, adore you, and thank you. God bless you.
There were some angry, bitter Lil' Kim fans who were quick to remind Nicki that this failure to pay homage is precisely why her and Kim fell out, but Nicki let her fans do her receipt gathering and posted this montage of her citing Kim and many other female rappers as an inspiration on several different occasions.
Several of the NEW young female MCs Nicki named showed up in Nicki's comments to show her love right back, but so far, no word from Kim or Remy.
Mase, however, crawled out from under his rock to encourage Nicki to do a "Megatron" remix with Kim. Nicki's response was the smiley emoji with a drop of sweat running down its face.
As for Cardi B, given that court case she's got pending and how bad things got between her and Nicki the last time they exchanged words, she ain't touchin' this obvious bait with a 10-foot-pole.
Something tells me that Foxy Brown would curse Nicki out if she actually did agree to collab with Kim, but the culture would indeed lose its shit.
And hey, a Nicki and Kim collabo would HAVE to be better than that trash-ass "Wake Me Up" song Remy Ma did with Kim last year.
So go for it, Nick. Put that beef jerky to rest once and for all and show us your growth, queen.
Be the first to receive breaking news alerts and more stories like this by subscribing to our mailing list.