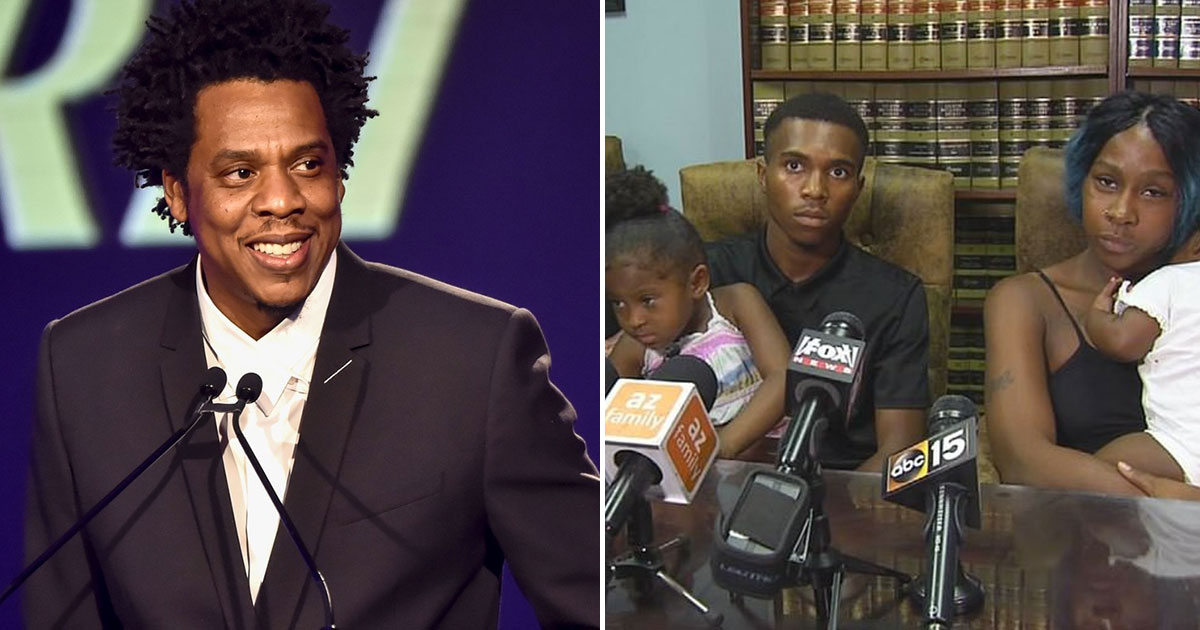 A philanthropic subsidiary of Jay-Z's entertainment company Roc Nation has offered to provide legal support to a Black Arizona family who was held at gunpoint and terrorized by Phoenix police officers after their 4-year-old daughter walked out of a Family Dollar Store with a $1 doll.
22-year-old Dravon Ames and his pregnant fiancée, 24-year-old Iesha Harper, are suing the Phoenix Police Department for $10 million, claiming that officers chased down the couple and their small children, pulled guns on them, threatened them and physically assaulted them all because their little girl took a cheap doll out of the store.
This week, a shocking video showing the disturbing incident went viral on social media, and it's incredibly difficult to watch:
Officers responding to the "shoplifting" report could be heard screaming: "I'm going to put a cap in your ass!" and "You're going to f***ing get shot!"
In court documents filed Thursday (Jun. 13), Ames and Harper accuse the police officers of committing battery, unlawful imprisonment, false arrest and inflicting emotional distress in addition to violating their family's civil rights in the May 29th incident.
According to The Blast, Team ROC (Roc Nation's "social justice department"), has reached out to Ames and Harper to provide legal support, call for the termination of the police officers and "ensure the well-being of the children."
We're told the organization has secured high-powered attorney, Alex Spiro, to join the family's legal team on a pro-bono basis and assist in filing charges against one of the police officers for child neglect.

Additionally, we're told Spiro's team plans to help the family with their civil lawsuit against the city of Phoenix.

We're told they have shared the news with its artists, and stars like Meek Mill have already taken a stand on social media.

Meek posted about the incident and wrote, "Do you hear the tone of their voices … they want to kill!!!"
Do you hear the tone of their voices … they want to kill!!!! https://t.co/hnUiLxNRIG

— Meek Mill (@MeekMill) June 14, 2019
In a statement (via AZ Central), Roc Nation Managing Director of Philanthropy Dania Diaz called the incident "absolutely sickening."
"There is no place for that behavior in our world – let alone our justice system – and we are calling for the immediate termination of the police officers in question," Diaz said. "We are committed to supporting the family to ensure that justice is served."
This is far from the first time Team ROC has provided legal assistance to people in need.
Roc Nation's philanthropic arm assisted in the so-called "hoodie arrest" case in which Tennessee prosecutors dropped charges in January against two Black men who were racially profiled in a mall in Memphis, and they also helped clear 11-year-old Jabari Talbot, who was arrested in February after he refused to stand for the Pledge Allegiance in his 6th-grade classroom in Florida.
Roc Nation appointed attorney Alex Shapiro also aided in the February release of rapper 21 Savage from immigration detention, and they also helped secure rapper Meek Mill's release from prison in 2018 after he spent nearly five months incarcerated for allegedly violating his probation.
Be the first to receive breaking news alerts and more stories like this by subscribing to our mailing list.