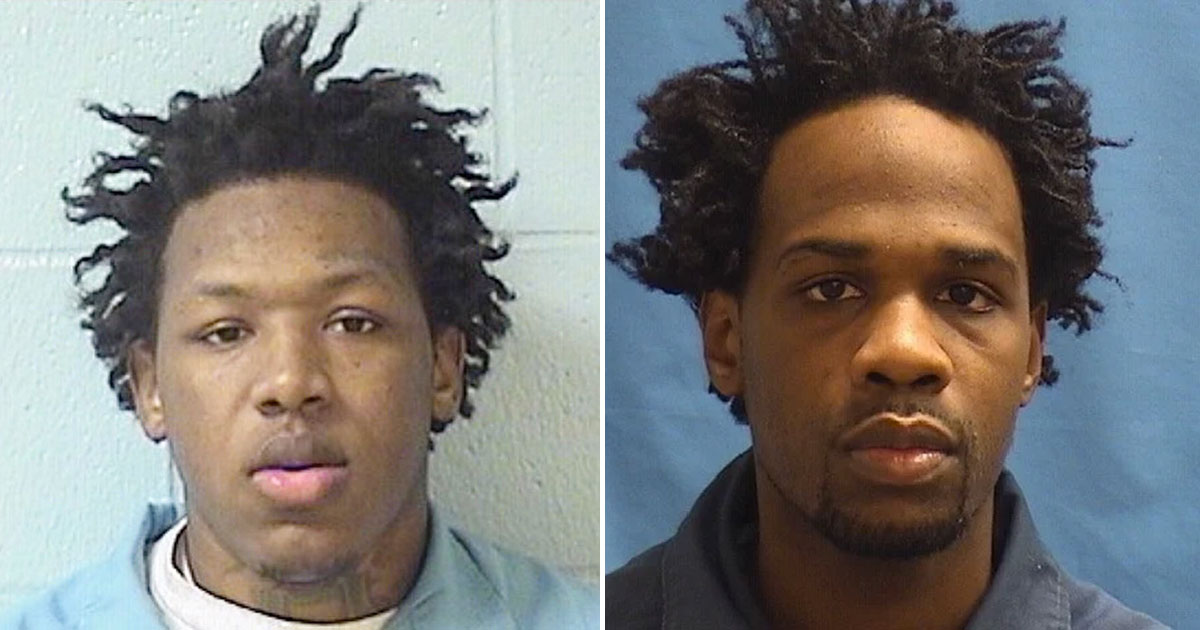 Saying that Chicago Rapper RondoNumbaNine is pissed at VladTV right now for reporting that he snitched on his friend and fellow Chi-town rapper Cdai would be a total understatement.
RondoNumbaNine and Cdai (both pictured in the mugshots above) are popular rappers in Chicago who in 2016 were sentenced to 39 and 38 years in prison, respectively, for the 2014 murder of 29-year-old cab driver Javon Boyd.
It was widely speculated that another Chicago rapper, Tay 600, snitched on Rondo and Cdai, but days ago, VladTV pulled up court documents stating that it was Rondo who tried to pin the shooting on Cdai to take the heat off himself.
According to the court documents—which were filed last Tuesday (Jun. 4) with the Circuit Court of Cook County, Illinois as a part of an appeal process—Rondo (whose real name is Clint Massey) argued that "his counsel was ineffective for not more vigorously pursuing a defense theory that [Courtney Ealy] was the sole shooter."
https://www.instagram.com/p/ByilkxYgKOV/
The part where Rondo's defense mentions Courtney Ealy (Cdai's legal name) as "the sole shooter" (see circled above) is where VladTV is drawing their snitching theory from, but according to RondoNumbaNine, he ain't no snitch, and he doesn't appreciate being referred to as such.
The rapper took to Instagram (Before you ask: YES, it is possible to use social media from jail, in fact, it's very common these days) Tuesday (Jun. 11) as VladTV's article went viral in an effort to clear his name, and he threatened to pursue legal action against the site if they don't delete the story.
He wrote:
Y'all betta take that sh*t down about me and Cdai before I sue the f**k out of y'all for false [accusations] and trying to assasinate [our] character … Me or Cdai don't have a statement at all…

Y'all can't say we said sh*t … We have the right to appeal our conviction via lawyer to prove that our trial was Fu … These are issues our lawyers are raising to show that!!!

Take that sh*t down ASAP and Apologize ASAP or I'm Sueing y'all ass [in] 24 hours … [Is] Fu Fame worth millions of dollars out y'all bank account??
https://www.instagram.com/p/Byk8LSDHqeW/
Rondo continued his rant on Twitter, where he maintained his theory that Tay (real name: Germontay Carpenter) is the one who snitched on everybody.
Ion Give no Fuck bitch u can tell again wit yo ? Azz lien on Me and gang we posed to been Bruddaz #SnitchK

— The Streets Nines (@rondonumbanine) June 11, 2019
Taysnitch?

— The Streets Nines (@rondonumbanine) June 11, 2019
On Steve free @lildurk I know gang mad he missed me expose this bitch ass nigga

— The Streets Nines (@rondonumbanine) June 11, 2019
All the real niggaz know only reason why I ain't expose yo bitch ass was because I ain't want u to hurt my case ask the other people who accused me on #LA he was right wit the rest of the rats?

— The Streets Nines (@rondonumbanine) June 11, 2019
Cut off them Lose ends or they a be yo downfall believe me #Onsteve

— The Streets Nines (@rondonumbanine) June 11, 2019
In this video, Rondo can be heard on speakerphone denying ever making a statement against Cdai, and saying that his lawyer is doing "what we pay him for" by suggesting alternate theories in order to help him win an appeal.
"I ain't ever told sh*t, and I ain't gone tell sh*t," he said.
Ask the witness on my case they was trynna track down eye witness and one of the names they was lookin for was Germontay Carpenter you just plead the 5th thats why yo name not in my direct transcript look that up #onsteve nigga imma die real u gone die a rat ? pic.twitter.com/yJ0IFsFjBr

— The Streets Nines (@rondonumbanine) June 12, 2019
Be the first to receive breaking news alerts and more stories like this by subscribing to our mailing list.