Police in Louisville, Kentucky have charged a man with murder after he punched his newborn son after a losing a video game, sending the infant to the hospital where he later died of his injuries.
Police said 26-year-old Anthony Trice was home alone watching his 1-month-old son De'Anthony Trice on Friday (May 3) while playing a video game in his bedroom. When he started to lose the game, Trice became angry and threw the controller, police said.
Authorities said Trice then directed his anger to his innocent baby, hitting the child in the head with his fist, which caused serious physical injury.
After hitting the child, police said Trice then picked the crying infant up in an attempt to soothe him, and while carrying him into the kitchen, Trice dropped the baby, then picked him up and continued to the kitchen to make a bottle, WDRB reported.
Investigators said Trice then brought the baby back into the bedroom, "propped him up in a seated position," put a blanket in front of the baby and placed the bottle in his mouth.
Trice then reportedly left the baby alone to use the bathroom. When Trice came back to the bedroom, he noticed the baby was distressed and called 911.
Tanjia Howlett, De'Anthony's maternal grandmother, told WLKY News Trice called the boy's mother after he dropped him.
"He was like, 'Get to the hospital. The baby was throwing up milk. So, I told my daughter, 'Why would he take the baby to the hospital for choking on baby milk?'," she said.
De'Anthony was rushed to Louisville's Norton Children's Hospital, where he clung to life for two days before dying of his injuries Sunday night (May 5).
Anthony Trice was arrested Saturday and initially charged with first-degree criminal abuse. Police added a murder charge after the baby died Sunday.
Trice pleaded not guilty to the murder and the first-degree criminal abuse charges in court Monday (May 6) and a judge raised his bond to $1,000,000 full cash—meaning he can't pay 10% ($100K) to make bail.
De'Anthony's aunt, Ronika Tunstill, said she and her sister left the baby with Trice to go out for Derby weekend.
Tunstill said before leaving Trice's apartment, Trice talked about how excited he was about buying new clothes for his newborn son.
"We were talking about the clothes that he got and what he was about to get him and stuff," Tunstill said. "Everything was fine, like, they weren't arguing. My sister and her boyfriend weren't arguing or none of that."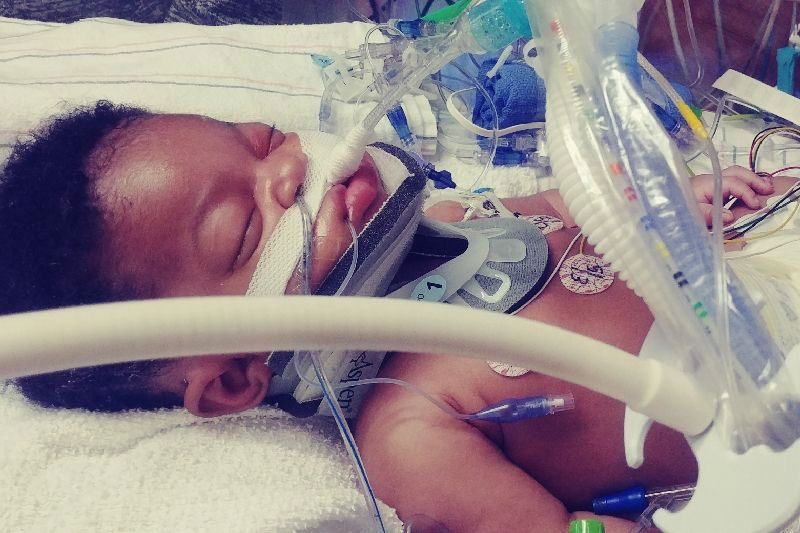 To help cover De'Anthony's funeral costs, his grandmother started a GoFundMe that has so far raised more than $3,000 of its $5,000 goal.
A picture of De'Anthony on the page (above) shows him connected to several breathing tubes in the hospital.
"We need your help," the GoFundMe reads. "Some of you have seen on the news we were recently hit with a tragedy. My grand baby was severely beaten by his father and the baby De'Anthony Trice lost his life on May 5, 2019. None of us saw this coming and the [sic] We need help to burial my grandson. Please help our family with prayers and support. God bless you."
Be the first to receive breaking news alerts and more stories like this by subscribing to our mailing list.