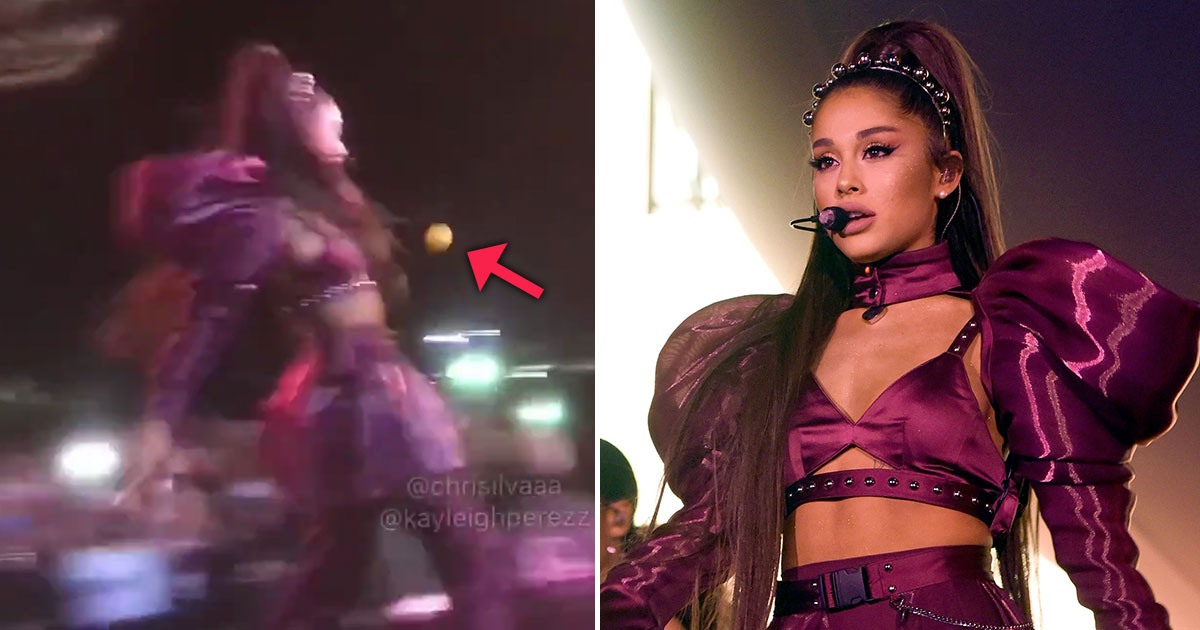 Ariana Grande was forced to momentarily pause her Coachella Weekend 2 set Sunday night (Apr. 21) after an audience member threw a lemon at her, hitting her in the chest as she made her way across the stage with her dancers.
Video footage shared on social media shows the exact moment the fruit was thrown at her while she was performing a song from her new album called "NASA."
ARIANA SWEETIE IM SO SORRY ABOUT THAT LEMON BUT… I CANT BELIEVE CHRIS AND I SAW THIS RIGHT IN FRONT OF US JSKSJW pic.twitter.com/SoJvdEwQjn

— kayleigh (@KayleighPerezz) April 22, 2019
Because lemons are widely associated with Beyoncé due to her iconic Lemonade album, fans quickly pointed the finger at disgruntled members of the Beyhive, who are probably in their feelings after rumors suggested Ariana earned more than Queen Bey for her Coachella-headlining gig.
It was widely reported that the "thank u, next" singer was paid $8 million, whereas Beyoncé was only paid $4 million, however, a source later clarified to The Blast that both women were paid $8 million—$4 million for each weekend.
Needless to say, Ariana's fans were not pleased that their fave was assaulted with a lemon while she was on stage.
If you throw a lemon at Ariana Grande, you're a piece of shit

— FINNEAS (@finneas) April 22, 2019
y'all I wake up to find out someone threw a LEMON at Ariana Grande last night a Coachella… y'all really out here being CHILDISH pic.twitter.com/s4lPXREFw2

— ? ???-??? ? (@IvanD_Castillo) April 22, 2019
And throwing a lemon at Ariana Grande during her #Coachella set?! Really?!?! Grow the heck up, people. #Arichella pic.twitter.com/JS2jF8ylfw

— MusicMonkey (@MusicMonkey) April 22, 2019
who tf threw a lemon at ariana?? i jus wanna talk… #Arichella pic.twitter.com/fouRBoSST4

— ruby (@jupiterzass) April 22, 2019
why are people throwing LEMONS of all things at Ariana? who just has a lemon with them at a music festival I'm confused

— Emmy ?? (@snafumercury) April 22, 2019
the amount of disrespect one has to have to throw a damn lemon at ariana grande… pic.twitter.com/wSCepg8kbJ

— sahar (@aritooneedy) April 22, 2019
After returning to the stage, Ariana briefly acknowledged the attack, saying to the crowd: "What the f**k? That's 'cause one of y'all threw a lemon at me. Shit."
SOMEONE THREW A LEMON AT ARIANA pic.twitter.com/T27biFiGcK

— ??????? follow me ari ily (@ghostinreg) April 22, 2019
Ariana didn't let the rude interruption get in the way of the rest of her performance though.
She later brought out Justin Bieber as her surprise guest as the two closed her set with a rendition of Bieber's hit single "Sorry."
Last weekend, she brought out NSYNC (minus Justin Timberlake), Nicki Minaj and Diddy as her surprise guests.
Ariana Grande's Coachella performance was also historic as she's the youngest person ever to headline the annual event, and she's also the fourth female headliner in the festival's nearly 20-year history, following Björk (who has headlined twice), Lady Gaga and Beyoncé.
Be the first to receive breaking news alerts and more stories like this by subscribing to our mailing list.