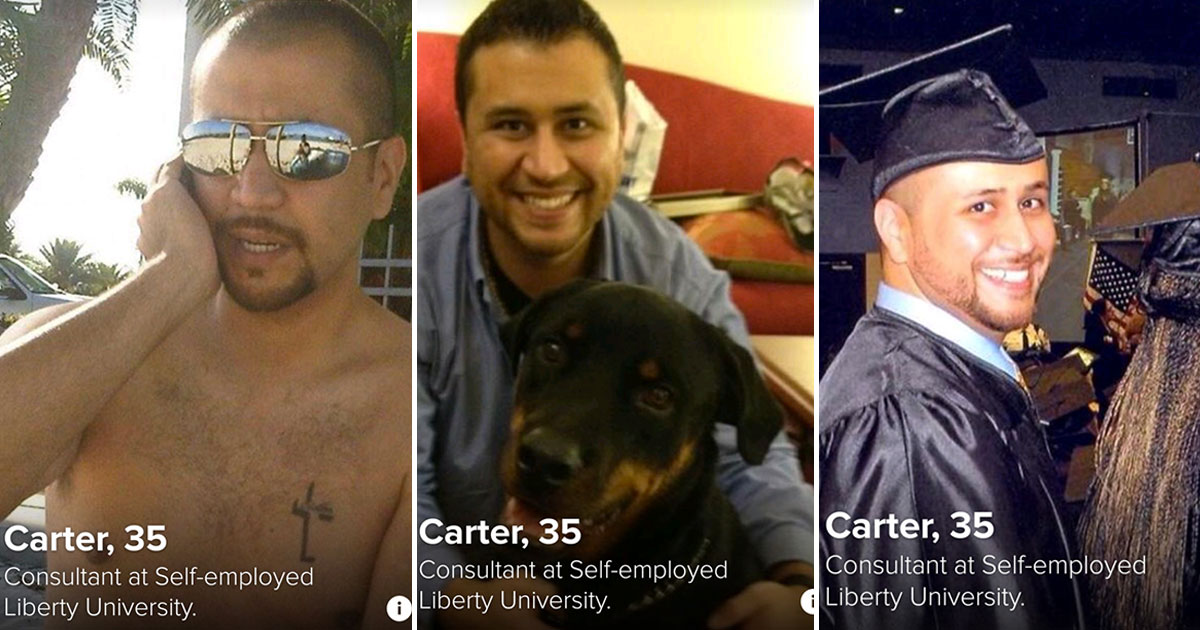 George Zimmerman's reputation is so bad that he's resorted to Catfishing in order to hook up with women.
The dishonorable former neighborhood watchman was recently kicked off Tinder after he was caught using a fake profile to try and get dates.
Roughly six years after being acquitted of all charges in the murder of Trayvon Martin, George was out here portraying himself on the popular dating app as a self-employed consultant and a Virginia's Liberty University Graduate looking for "carefree fun" under the false name Carter.
In one picture (he used his own pics btw), Zimmerman is seen with a big smile as he poses with a dog, and in another, he's shown wearing a cap and gown.
According to screengrabs (via Creative Loafing), another photo shows him shirtless while holding a phone, exposing a tattoo on his chest.
"Carter's" 'profile stated: "I love the outdoors, fishing, camping and hiking. I love adventure [but] not into huge crowds. I'm also down for a quiet night with Longhorn [Steakhouse] take out."
Most successful Catfishers use fake pictures in addition to fake names, but whatever.
Regardless… Tinder's Community Guidelines strictly prohibit "impersonation" and it also warns users not to "pretend to be someone else."
A spokesperson from Tinder confirmed that Zimmerman's fake profile has since been removed for clearly violating their guidelines.
"At Tinder, we take our users' safety very seriously and our team has removed this profile from our platform," the company said in a statement.
"We utilize a network of industry-leading automated and manual moderation and review tools, systems and processes — and spend millions of dollars annually — to prevent, monitor and remove bad actors who have violated our Community Guidelines and Terms of Use from our app."
How embarrassing! Even more embarrassing is the fact that this isn't the first time George Zimmerman has been booted from an online dating platform.
He was also removed from Bumble back in February after he was caught trolling for dates, marking the second time he was removed from that particular app since December, a spokesperson said.
"We have blocked and banned him again after we were informed by our users that he had created a new unverified profile," the Bumble spokesperson stated.
Be the first to receive breaking news alerts and more stories like this by subscribing to our mailing list.