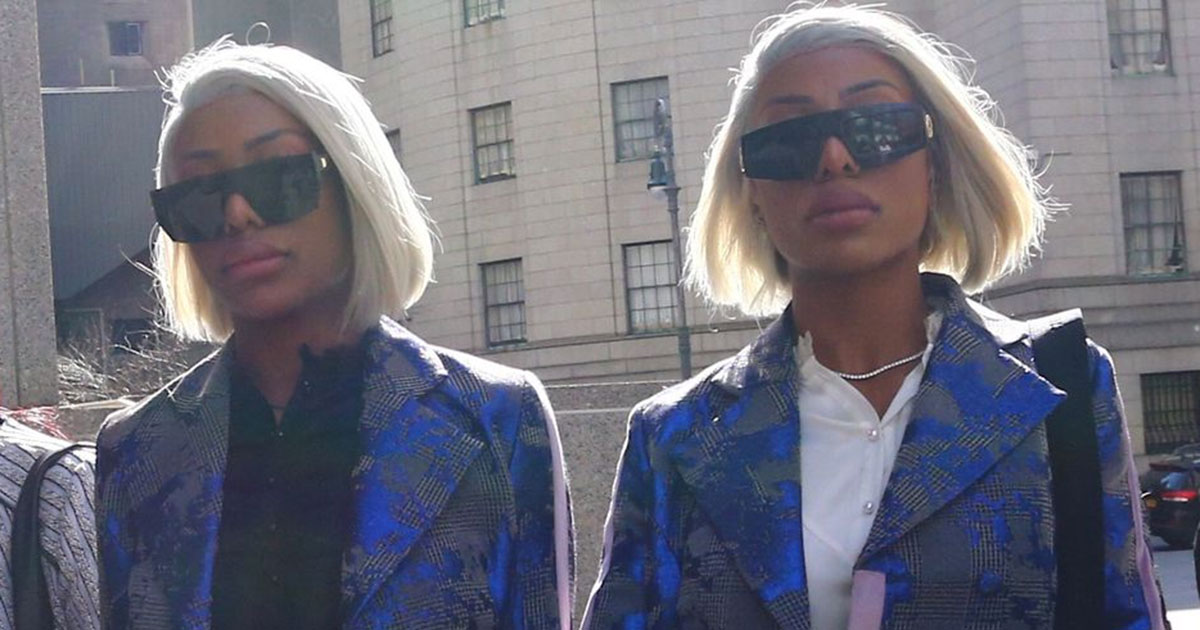 One of the Clermont twins is headed to prison for making fraudulent purchases with a man's debit card info after he overdosed while on a "prostitution date" with her.
Shannade Clermont, who once appeared alongside her twin sister Shannon on the Bad Girls Club, was sentenced to one year in prison after pleading guilty to one count of felony wire fraud.
Officials said Clermont stole debit card information from James Alesi after he passed out at his home and went on to spend thousands of dollars—money that wasn't legally hers to spend—on her own rent, plane tickets, expensive clothing and other lavish purchases.
Alesi, a real estate broker, died of an accidental overdose from cocaine laced with fentanyl, his family reportedly said.
The man was found dead in his Manhattan apartment on February 1st, 2017, one day after prosecutors believe Clermont met with him for what they described as a "prostitution date."
While Clermont was at Alesi's home, she stole information from two of his debit cards and later used Alesi's identity to wire herself money, prosecutors claimed.
Alesi's family didn't find out what happened until two months after his death when they were handling the sale of his estate. "My brother died and she went shopping," Alesi's sister Jolle said in court, according to the New York Daily News.
Clermont reportedly told police after she was arrested that she committed the crime in part due to the stress of keeping up with her public image.
"Former reality TV 'bad girl' Shannade Clermont lived up to her on-screen persona," U.S. Attorney Berman said Thursday (Apr. 4) in the sentencing announcement.
"She admitted to stealing the debit card information from a man she visited for a prostitution date in his Manhattan apartment. When the man died of an overdose, instead of notifying the authorities or calling for help, Clermont callously chose to use the man's debit card information to make tens of thousands of dollars in illegal purchases," Berman explained.
Clermont was arrested in July 2018 and entered a guilty plea to one count of wire fraud in November.
"I take responsibility for my shameful actions," Clermont told U.S. District Judge Naomi Buchwald. "Words can't explain the sorrow I have in my heart."
Judge Buchwald said during the hearing that she wasn't concerned with Clermont's alleged prostitution, but took her to task for stealing from a man who may have needed medical attention.
"When faced with a real test of character, you chose to steal his debit card information," the judge said, according to the Associated Press.
Clermont's defense attorney, Jeffrey Lichtman, insisted his client bore no responsibility for the man's death, claiming she "had no idea that he was in any kind of distress."
Buchwald, unconvinced of that notion, responded: "I'm not sure I totally agree with you because I don't know what happened in the 3 ½ hours she was in the apartment. Had she decided before she left to call 911, we don't know what would have happened."
In addition to the 12-month prison sentence, Clermont will be required to forfeit $5,770.27 and pay restitution of $4,696.40, New York's PIX11 News reported.
Following her release from prison, Clermont will also be placed on parole for three years.
Be the first to receive breaking news alerts and more stories like this by subscribing to our mailing list.