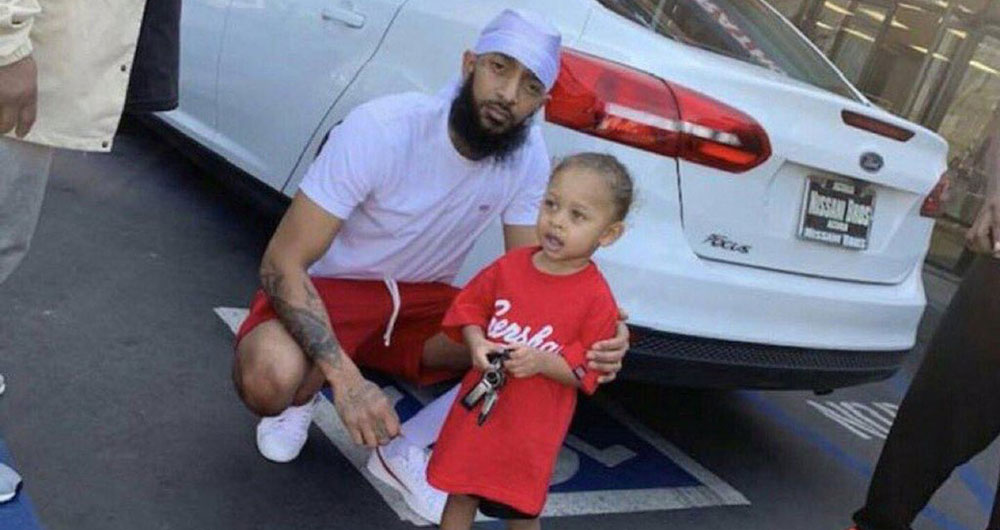 The last known photo of Nipsey Hussle was taken outside of his South Los Angeles clothing store just moments before he was shot and killed Sunday (Mar. 31)
The photo shows the rapper posing with a fan's young child. Because Nipsey is a father of two young children, many people believed that the picture was of Nipsey and his son, but it actually originated on a fan's Facebook page.
Another photo shows 33-year-old Hussle, whose real name was Ermias Asghedom, posing with a man.
His last pictures? things like this scare tf out of me. I'm soooo sorry @NipseyHussle this shouldn't have never happened to you. ?? pic.twitter.com/rVYo7s8S8Q

— ? (@NoTixNoSkates) April 1, 2019
In both photos, you can see the parking lot in front of Hussle's Marathon clothing store where he was gunned down.
Other photos/videos that circulated on social media showed Hussle lying wounded in the same parking lot wearing what looked like the same clothes—a white t-shirt, white durag and red shorts.
One particularly graphic image shows the rapper bleeding from his head, corroborating reports that he was shot in the head.
Gossip On This has seen the photos and video footage showing Nipsey as he bled out and paramedics tried to revive him, however, we are choosing not to re-publish them here out respect for his friends and family.
The photos that we're choosing to share (above) embody the type of man Nipsey was: a father, a community activist and a prolific leader who was loved by many.
Nipsey was heavily involved in the Crenshaw community, in which he worked to prevent gang violence. He also owned several properties in South Los Angeles, including the strip mall where his clothing store is located.
"My career started right here," he told FOX 11 last November. "This community put me on."
Nipsey said his goal at the time was to leave a legacy and financial stability for his two children, a daughter and a son.
"We playing the long game. We don't want the money to stop when we go. When we can't work no more. We want it to outlive us, we want it to be generational," he said.
The sad irony behind all of that is that he was murdered in the same community he worked so hard to uplift.
As for the rapper's suspected killer, cops are looking for a black male in his twenties. Police said he approached Nipsey by foot Sunday afternoon and fired multiple shots before fleeing in a getaway vehicle driven by a woman.
Two others were shot as well and they remain in critical condition.
Authorities believe the shooting to be gang-related.
Be the first to receive breaking news alerts and more stories like this by subscribing to our mailing list.